Matt Chapman is a professional American baseball player who plays third base for the Toronto Blue Jays. He made his Major League Baseball (MLB) debut in 2017 with the Oakland Athletics. 
To help him command the infield, Chapman uses a Wilson A2K baseball glove. This has been his go-to glove since his 2017 debut season as the 11.75-inch design gives him sufficient reach for managing the hot corner. Wilson lets him design his own glove every year.
The 11.75-inch length is the ideal size for Chapman since it allows him to confidently catch hard-hit balls in the hole or down the foul line. The glove is both large enough to be effective at third and small enough to make quick transfers with his hands.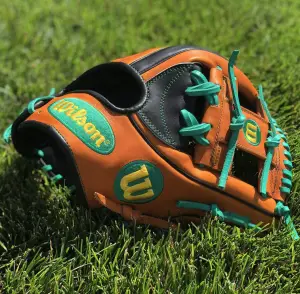 Double layer in the palm creates a stronger pocket

Made with triple-sorted Pro Stock Select leather, the most flawless, high-grade material in the industry

Reduced break-in period

Dual welting on the fingers retains glove shape over time





See More Baseball Trivia & Questions