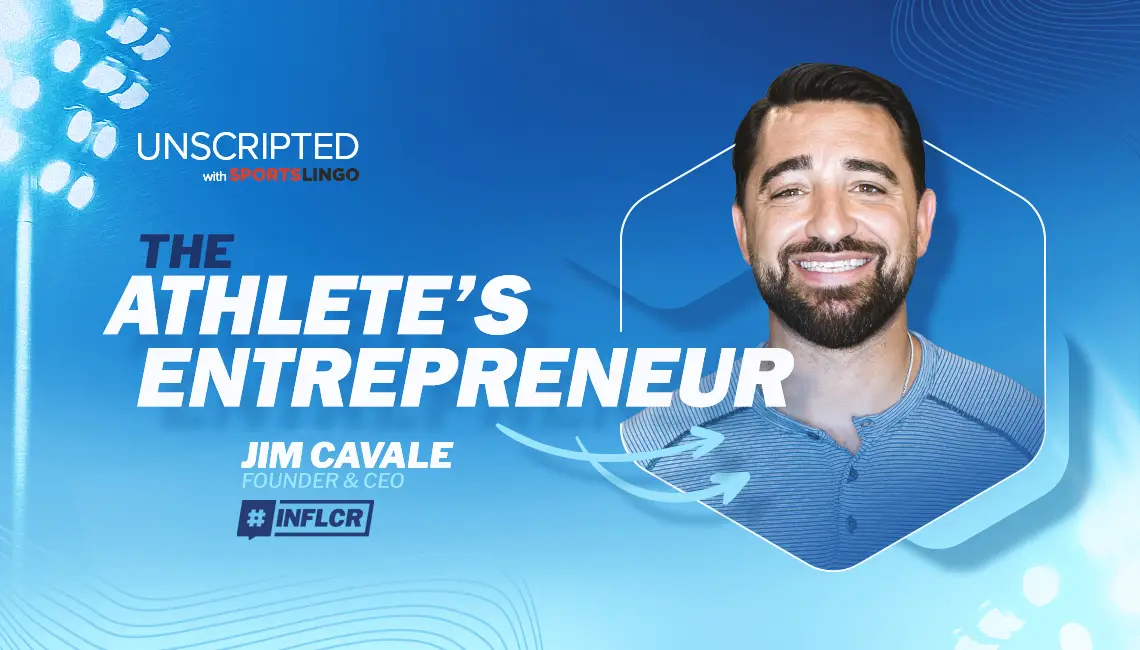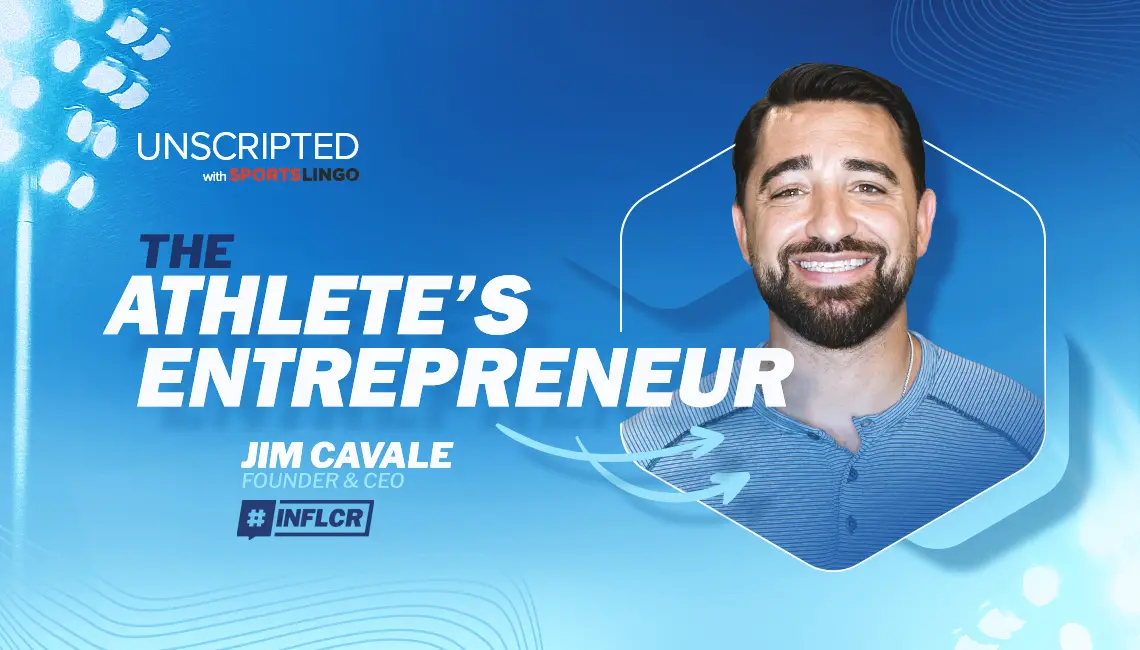 Jim Cavale left baseball to pursue entrepreneurship — and he's helped thousands of student-athletes in the process
Jim Cavale is competitive by nature, so it's fitting that he found his way to sports at a young age.
"Just playing in my neighborhood, I realized I enjoyed competition," Cavale says. "And sports was and still is the most objective form of measurement. You either win or you lose; you either make a shot [or] score a goal or you don't."
That regimented approach to sports followed Cavale into his early athletic career — first as a high school basketball and baseball player and then as a college baseball player at the University of Montevallo in Alabama.
While Cavale is competitive, he's also a team player. Hence why he gravitated toward baseball and basketball. 
"That's another thing that drew me into sports — being part of a team," he says. "Just the roles everyone plays and the way that as a team, you can work together to achieve a goal."
When Cavale realized his dreams of playing competitive baseball would end with college, he applied the themes of discipline and teamwork to his new path: entrepreneurship. 
He's been leading companies ever since, from his early days as the founder of NextSpex to helming the Iron Tribe franchise and ultimately launching his current company, INFLCR, which helps student-athletes manage their own Name, Image, and Likeness (NIL) businesses. Today, the company employs more than 150 people across 30 states and serves more than 4,000 student-athletes. 
"I always look at my life as an athlete as a big reason that I've been able to build companies and teams and set a vision and rally everyone around executing that vision," Cavale says. "Without sports, I don't think that would have been possible." 
We chatted with Cavale to learn more about his journeys as a student-athlete and as an entrepreneur — plus his best advice for athletes looking to make it big. 
Going South
In high school, Cavale got his first taste of what some might call "failure." 
Basketball was his primary athletic passion, but as a freshman, he didn't make it onto an AAU travel team that he'd desperately wanted to join.
"It really, really bummed me out," he says.
But Cavale quickly turned disappointment into opportunity.
His high school's baseball coach allowed him to join the team late in the season. Cavale had a great year, and he decided to keep playing baseball. He went on to become an all-state baseball player in New York state, where he played at Christian Brothers Academy.
He knew that if he wanted to play baseball in college, he should move down south. "That's where the best ball is and where the best weather is," he explains. 
So when it came time to go to college, he turned down scholarships in the northeast to move approximately 1,000 miles away from upstate New York and play for a Division II school in Birmingham, Alabama.
"That's another thing that's great about sports … they can bring you to places you never would go [otherwise]," Cavale says. 
Cavale was thrilled to prove to himself that he could face the competition of baseball in the South. But he struggled with injuries, and it didn't take long for him to realize that his dream of becoming a professional baseball player might not be feasible.
"That wasn't my destiny, even though I wanted it to be," he says. "At some point, I was gonna have to find something new."
Letting go of his dream was tough. "But like most tough things, it ended up being … a huge blessing."
Releasing the dream of a professional baseball career made space for a new future.
"Twenty years later … I still am sitting here in Birmingham," he says. "I have a family here, and I met my wife here. And this is what I now call home — all because of my passion for sports and my chasing of the baseball dream."
Cavale's early days in Birmingham also inspired the next phase of his life: entrepreneurship.
The next idea 
Toward the end of college, Cavale started a broadcast network that would allow his school to air its basketball games via video and audio streaming.
This was the early 2000s, when streaming was still a relatively new concept. Cavale quickly realized that his idea had major potential.
"I had a product I could sell to a lot of other colleges around the country, especially small Division I and Division II schools that didn't have streaming yet," he explains.
Following this realization, Cavale's first company, NextSpex, was born.
He spent the next five years building NextSpex, which gradually evolved into a recruiting database that allowed high school athletes and college coaches to connect online. The service helped more than 1,000 high school students land athletic scholarships in just a couple years.
By 2010, Cavale was ready for a new challenge.
"The experience I got on the job [at NextSpex] … really set the stage for the rest of my career," he says.
Cavale sold NextSpex and set his sights on his next venture: starting the fitness brand Iron Tribe with a partner. Together, they opened several gyms and eventually became a franchisor. They sold gyms all over the country, from Birmingham and Atlanta to Seattle, Denver, Milwaukee, Miami, Houston, and more.
"It was a really, really fun journey for seven years as a president of that brand," Cavale says.
During that time, Cavale found himself chatting with an Iron Tribe member who was a commissioner at the SEC. Their discussion turned to the then-active litigation between Ed O'Bannon and the NCAA.
"That ended up being something that changed my life, because that's where I really got the idea for my current company, INFLCR," Cavale says. 
"In 2017, we launched that to help athletes build their brand on social media," he explains. "And more recently, we've been able to also help them manage their NIL [Name, Image, Likeness] business."
A major upset
For those unfamiliar with Ed O'Bannon's story, Cavale offers a quick rundown.
In the not-too-distant past, NCAA bylaws prohibited college athletes from profiting off their Name, Image, and Likeness (NIL). 
"So the school [could] use their Name, Image, and Likeness in a lot of different ways," Cavale explains. "But the young man or woman [could] not use his or her [information] in their own ways to profit."
Then along came Ed O'Bannon — a basketball player who won a mid-'90s national championship as part of UCLA's team and became a "March Madness legend" (as Cavale puts it).
After graduating from UCLA, O'Bannon played a bit in the NBA, then "kind of fizzled out." In the early 2000s, he was working at a used car dealership in Las Vegas.
The dealership's owner invited O'Bannon over for dinner and to meet his son, who was a major basketball fan. During that fateful hangout, the son invited O'Bannon to play the college basketball edition of EA Sports. 
O'Bannon was surprised to discover that he could play the game as himself.
"He's sitting there kind of having a surreal moment," Cavale says. "He's like, 'Wait a second. I won a national championship. … Now, almost 10 years later, I'm working at a used car dealership. And somebody is making money off this video game, but I'm not getting a cent.'"
For the next decade, O'Bannon battled with the NCAA. The saga ended with a Supreme Court ruling in favor of O'Bannon and other athletes whose likenesses had been used without compensation over those years.
That was good news for O'Bannon, for college athletes around the country — and for Cavale.
Capitalizing on controversy
"This O'Bannon case … kind of got me going down a rabbit hole," Cavale says.
That rabbit hole ultimately led to Cavale's current business: INFLCR. 
In the company's early days, Cavale and his team focused on building an app to help student-athletes capture content (for example, from photographers and videographers working at schools' athletic events) and share it on social media to help grow their following.
INFLCR also focused on incentivizing schools' participation on the app. 
"Collectively, athletes have much bigger followings than the schools on social media," Cavale points out. So when student-athletes grow their following, they can also boost their schools' profile. 
Within two years, INFLCR had multi-year software contracts with more than 100 schools. The company's scope has expanded further since being acquired in 2020 by Teamworks, a communications and collaboration platform for pro and college sports.
"It's turned out to be a really great move," Cavale says of the acquisition. 
Today, INFLCR and Teamworks boast multiple products — not only the original INFLCR software, but also a suite of tools pertaining to the college athletics experience, many of them focused on helping student-athletes profit from their NIL. 
The company has achieved its success using the same ingredients that have inspired Cavale since he first started playing sports as a kid: discipline and teamwork.
"We're a really awesome team," Cavale says. "We've been able to hire great talent … that's helped us scale this business."
Forever athlete
Cavale may have evolved far beyond his dreams of becoming a professional athlete, but sports are still a big part of his life.
"Nike says that an athlete is anyone with a body, right? I've always loved that definition," he says. "Whether others look at me like an athlete or not, I think I do consider myself an athlete."
That's evident in the fact that despite his busy schedule, Cavale still makes time for fitness.
"My goal is to move every day, and I'm very active," he says. "I go to Iron Tribe at least three days a week; I have a home gym." He also works out with his two daughters and his son. 
As is always the case for Cavale, athletics and entrepreneurship are inextricably linked.
"I think [staying fit] plays a lot into being a CEO and being an entrepreneur and a leader — you want to have high energy," he says. "You want to set yourself up to live the longest life possible. You know, we're not here very long; you have to make the most of every minute."