This is a list of common American football lingo, jargon and terminology.
#
1st Down
3-4 Defense
3rd And Long
4-3 Defense
4-4 Defense
4th Down Conversion
5-2 Defense
5-3 Defense
46 Defense
53-Man Roster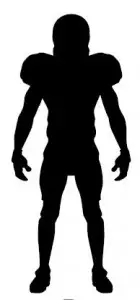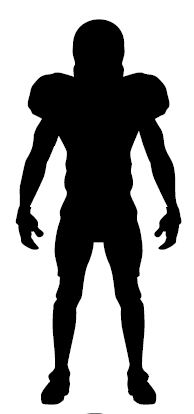 8 In The Box
A.
A Gap
AFC East
AFC North
AFC South
AFC West
Air Raid Offense
Air Yards
All-Pro
All-Purpose Yards
Alligator Arms
Alternate Cheerleaders
Assisted Tackle
Audible
Automatic First Down
B.
B Gap
Back Judge
Back Shoulder Fade
Backfield
Backward Pass
Balanced Line
Ball Carrier
Ball Control
Black Monday
Blind Side
Blitz
Blocked Punt
Blocking Back
Blocking Sled
Bomb
Bootleg
Box
Bubble Screen
Bump And Run
Bust
Busted Play
Butt Fumble
Buttonhook
C.
C Gap
Carry
Center
Center Eligible
Chain
Chain Gang
Checkdown
Chip Shot
Chop Block
Chuck And Duck
Chucking
Clipping
Clock Management
Coffin Corner
Comeback Route
Completion
Completion Percentage
Contain
Corner Route
Cornerback
Counter
Cover Three
Cover Two
Cover Two Zone
Crackback Block
Cut Blocking
Cutback
D.
Dead Ball
Defensive Back
Defensive End (DE)
Defensive Holding
Defensive Tackle (DT)
Delay Of Game
Dime Back
Dime Defense
Dime Package
Dink And Dunk
Direct Snap
Double Coverage
Double Foul
Double Reverse
Double Wing
Down By Contact
Drag Route
Draw Play
Drop Back Pass
Dual-Threat Quarterback
E.
Eight In The Box
Eligible Receiver
Encroachment
End-Around
End Zone
Extra Point (XP)
F.
Face Mask
Fair Catch
Fair Catch Interference
Fake Punt
False Start
Field Goal
Field Judge
Field Position
First Down
Flag (Penalty Flag)
Flare Route
Flea Flicker
Flying Wedge Formation
Forced Fumble
Forward Pass
Forward Progress
Four-Point Stance
Fourth Down Conversion
Franchise Player
Franchise Tag
Free Kick
Free Play
Free Safety
Front Four
Front Seven
Fullback
Fumble
Fumble Lost
Fumble Recovery
Fumblerooski
G.
Go For It
Go Route
Goal Line
Goal Line Stand
Gridiron
Gronking
Guard
Gunner
H.
H-Back
Halfback
Hail Mary
Handoff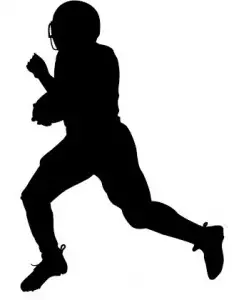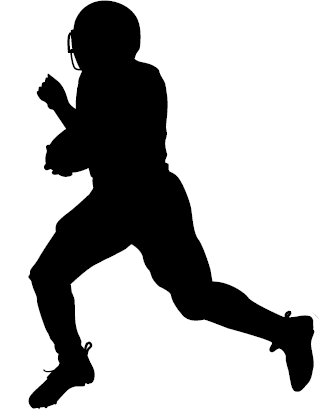 Hands Team
Hard Count
Hash Marks
Hitch Route
Holding
Hook And Ladder
Horse Collar Tackle
Hot Receiver
Hot Route
Huddle
Hurry-Up Offense
I.
I Formation
Icing The Kicker
Illegal Formation
Illegal Motion
Illegal Shift
Illegal Use Of Hands To The Face
Illegal Touching
Incomplete Pass
Indirect Snap
Ineligible Receiver
Intentional Grounding
Interception
J.
K.
L.
Lambeau Leap
Late Hit
Lateral
Line Judge
Line Of Scrimmage
Linebacker (LB)
Long Snapper
M.
Magic Number
Man In Motion
Man-To-Man Defense
Max Protect
Middle Linebacker (MLB)
Muffed Punt
N.
Naked Bootleg
Neutral Zone
NFC East
NFC North
NFC South
NFC West
Nickel Defense
No-Huddle Offense
Non-Contact Injury
Nose Tackle (NT)
O.
Offensive Guard (OG)
Offensive Line (OL)
Offside
Oklahoma Drill
Onside Kick
Organized Team Activities (OTAs)
Out Route
Outside Linebacker (OLB)
P.
Pass Interference
Pass Protection
Pass Rush
Peel-Back Block
Physically Unable To Perform List (PUP List)
Pick Six
Pistol Offense
Play-Action
Play-Action Pass
Play Clock
Playbook
Pocket
Point After Touchdown (PAT)
Pooch Punt
Pre-Snap Read
Prevent Defense
Pro-Style Offense
Pump Fake
Punt
Punt Return
Pylon
Q.
Quarterback
Quarterback Cadence
Quarterback Rating (QBR)
Quarterback Scramble
Quarterback Sneak
Quick Kick
R.
Read Option
Reception
Red Zone
Redshirt
Roll Out
Roughing The Kicker
Roughing The Passer
Rover
Run Out Of The Gun
Run Out The Clock
Runback
Rush
S.
Sack
Safety
Safety Blitz
Sam Linebacker
Scatback
Scheme
Scoop And Score
Scramble
Screen Pass
Scrimmage Kick
Seam Route
Shield Punt
Shoot The Gap
Shotgun Formation
Shovel Pass
Shutout
Single Set Back
Single-Wing Formation
Slant
Slobberknocker
Slot Receiver
Snap
Snap Count
Spearing
Special Teams
Spike
Split End
Split-T Formation
Spot
Spread Offense
Squib Kick
Stance
Statue Of Liberty Play
Stiff Arm
Strip
Strong Safety
Strongside
Strongside Linebacker
Stunt
System Quarterback
T.
T Formation
Tackle
Tackle Box
Tackle Eligible
Tailback
Take A Knee
Takeaway
Taunting
Third-And-Long
Three-And-Out
Three-Point Stance
Throwaway
Tight End
Touchback
Touchdown
Total Offense
Trap Block
Trenches
Trick Play
Triple Crown
Triple Option
True Freshman
Tuck Rule
Turnover On Downs
Two-Minute Warning
Two-Point Conversion
Two-Point Stance
U.
Under Center
Unnecessary Roughness
Uprights
V.
Veer
Victory Formation
Vince Lombardi Trophy
W.

Walk-Through
Weak Side
Weakside Linebacker
West Coast Offense
Wheel Route
Wide Receiver
Wildcat Formation
Wishbone Offense
X.
Y.
Yard
Yards After Catch (YAC)
Yards From Scrimmage
Yards Per Carry (YPC)
Z.