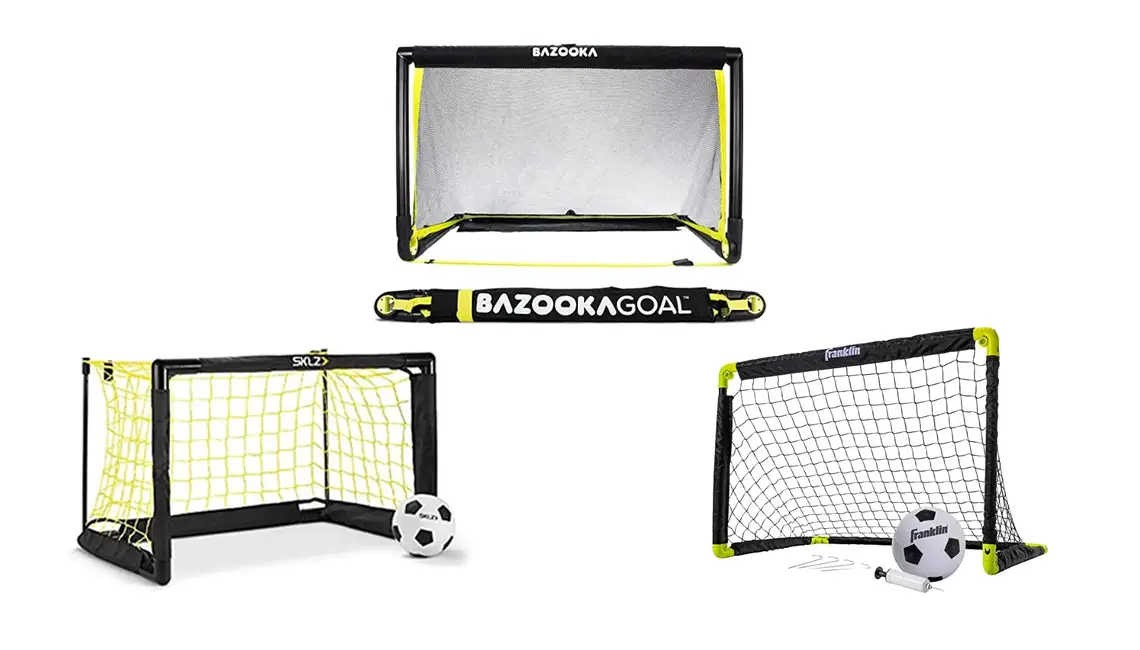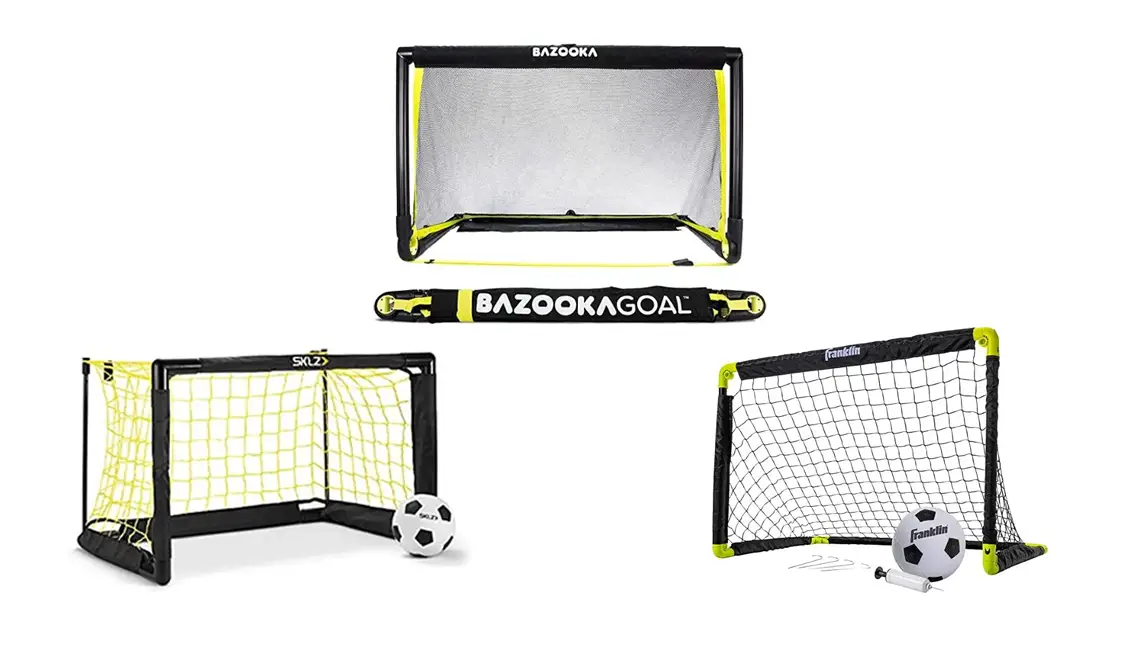 Want to play soccer everywhere? You can play backyard soccer anywhere you'd like with a mini soccer goal. Learn more about small soccer goal nets and find the best one to suit your preferred playing style.
Find your mini soccer net
What to look for in a mini soccer goal
Having the right sporting goods makes a major impact on whether you want or practice. So as you shop for mini soccer goals, consider these factors to choose the best one.
Size
Any soccer goal that measures 12 feet by 6 feet or smaller is considered a mini soccer net. However, goals can be as small as 3 feet by 5 feet for practice or peewee soccer. Depending on what you intend to use your mini goal for, some sizes are more appropriate than others. Also, consider the area you have to set up your soccer goal and height clearance considerations for the goal posts.
Portability
Many mini soccer nets are easy to pack and carry with an included carrying bag. A foldable or pop-up model will be the easiest to travel with if you plan on taking a soccer goal along on your next adventure.
Set-up
Setting up a mini soccer net is usually pretty straightforward. While assembly instructions vary between models, most have an easy-to-use frame that either locks together or pops out on its own. Then, you will want to secure your goal with ground stakes. The best way to determine if a net will be easy to set up is by reading customer reviews.
Quality
A high-quality mini soccer net will be much more enjoyable than a flimsy model. Look for a soccer net with a durable frame and long-lasting netting. A good warranty often indicates that a net is built to last.
Types of mini soccer nets
There are several different kinds of mini soccer nets designed for various play styles. However, these are the most common varieties.
Portable soccer nets
Most mini soccer nets also double as portable soccer goals. These goals make it easy to arrange pickup games at the park or practice in a friend's backyard. If you want a soccer net that you can take anywhere, look for highly portable models.
Pop-up soccer nets
Another popular option for home soccer fun is a pop-up soccer goal. Setting up this type of net is a breeze. Remove the net from its carrying case, let it pop open into place, and secure the bottom with ground stakes. Pop-up soccer nets have a distinctive round shape and tend to be smaller than other options.
Foldable soccer nets
Players looking for a slightly larger goal area should consider a folding soccer goal. Foldable nets more closely resemble traditional rectangular soccer goals and have goal posts made from fiberglass or a durable plastic such as PVC. These portable soccer nets are excellent for backyard soccer games.
Soccer practice nets
Soccer players looking to hone their skills from home should consider a mini training goal or backstop. These goals act as training equipment for practicing soccer ball control and shooting. They are also fun for playing games with the whole family.
9 soccer nets for backyard and on-the-go play
Who said you need a field to play soccer? With these nine mini soccer nets, you can kick around the ball in your backyard or take it on the road to play pickup games almost anywhere.
1. PUGG Original Pop-Up Futsal Goal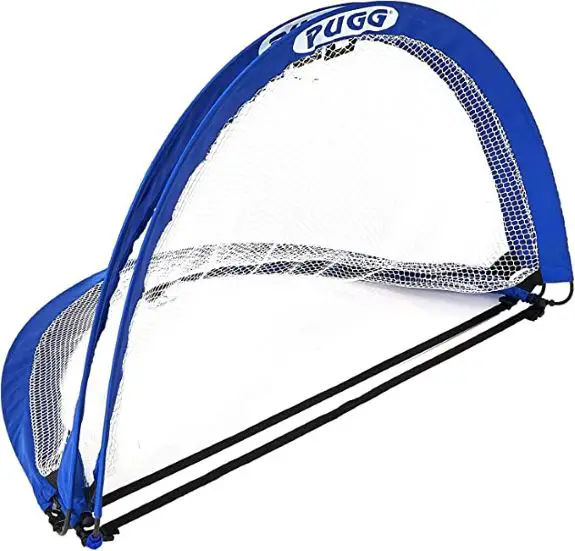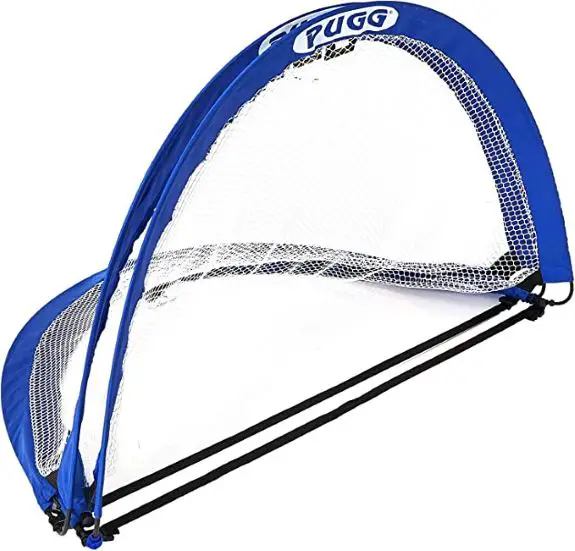 Best portable soccer net

Ideal for on-the-go soccer for all ages

4' x 2.5' pop-up goals

Includes two goals and carry bag
The PUGG pop-up goal was created in 1994 and was the first of its kind. Today, these high-quality portable soccer goals are still one of the most popular choices for soccer players who love pickup games and playing soccer anywhere. In this set, you get two 4-foot PUGG goals. Each goal has an intuitive twist-to-close design that folds down to a 1-inch-thick oval to fit comfortably in the compact carry bag.
PUGG football goals have three attached pegs for securing the goal to the ground and replacement pegs should you lose one. They feature steel spring frame construction inside a premium nylon sleeve and a knitted poly net.
2. Franklin Sports Kids Mini Soccer Goal Set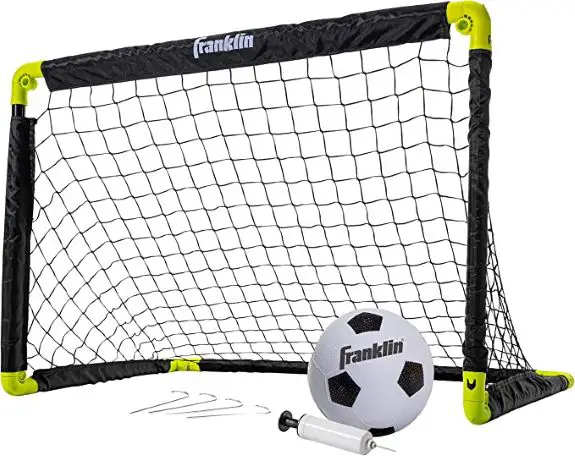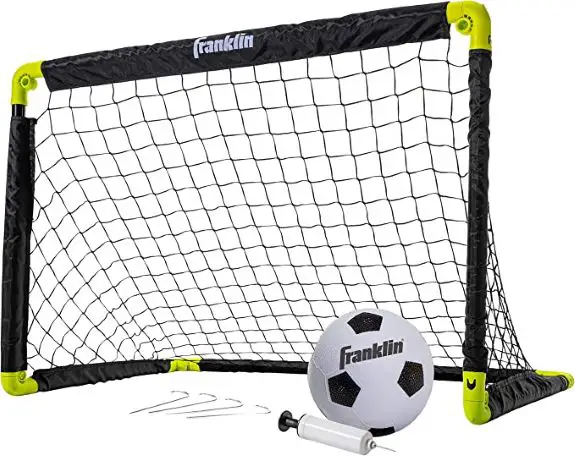 Best folding mini soccer net

Ideal for kids' soccer at home

3' x 2' folding goal

Includes one goal, one mini soccer ball, an air pump, and four ground stakes
Encourage your kids' love of soccer with the Franklin Sports folding soccer goal net and ball set. This mini goal set is an Amazon best seller with thousands of positive reviews, and parents rave about how lightweight and portable this goal is.
The goal is made from lightweight plastic and has quick fold corner joints that allow you to assemble or break it down in seconds. Storage is also easy as it folds flat. In addition, this Franklin Sports soccer set comes complete with a mini soccer ball and a pump, so kids can start playing as soon as it's out of the package.
3. SKLZ Pro Mini Goal and Soft Ball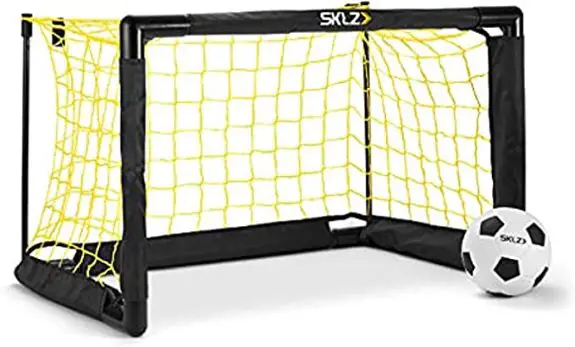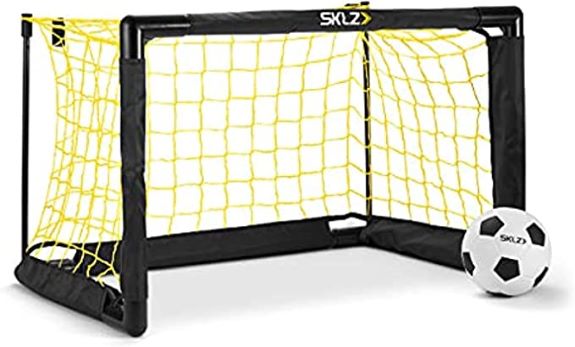 Best mini indoor soccer net

Ideal for indoor soccer play

1.8' x 1.3' mini goal

Includes one goal and one mini soft ball
Ever wanted to play soccer inside your house? This mini soccer goal net from SKLZ can make that dream a reality. This net is truly miniature at just 22 by16 inches in size, allowing you to leave it set up as a permanent fixture in any play room, garage, or family room. The frame is easy to assemble and breaks down small for easy storage.
Despite its small size, this mini indoor soccer net is incredibly durable and maintains the classic rectangular shape of full-sized goals. It also comes with a soft foam soccer ball to minimize damage to furniture and household fixtures.
4. BazookaGoal Original Solid Frame Pop-Up Goal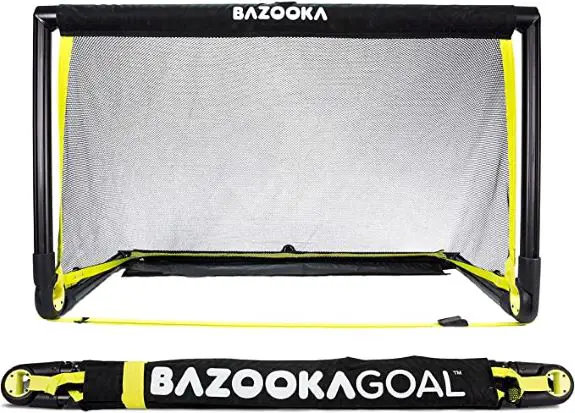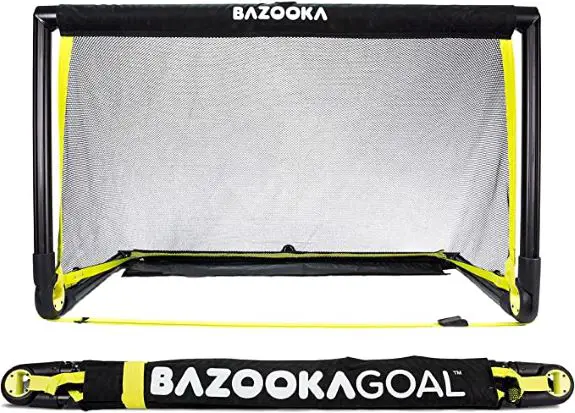 Best professional-quality mini net

Ideal for team practices

4' x 2.5' solid frame pop-up goal

Includes one heavy-duty mini goal
While mini soccer goals are often designed as toys for kids, the BazookaGoal is the opposite. This is an innovative and award-winning telescoping goal that performs at a professional level. Many European professional football teams use larger versions of this exact goal in their training sessions because of their durability.
The BazookaGoal is an excellent option for kids' soccer games, adult scrimmages, and backyard practice. It's made from all-weather UPVC with nylon fiberglass composite joints. Internal springs minimize the need for ground anchoring, and the fine mesh net is long-lasting. In addition, all BazookaGoals have a two-year frame warranty, so they're great for heavy use.
5. JOOLA Sport Squad Portable Soccer Goal Net Set


Best kids' soccer nets

Ideal for family soccer games

4' x 3' pop-up nets

Includes two goals, steel ground stakes, and a carrying bag
Playing soccer with the entire family is even better with the JOOLA Sport Squad portable soccer goal set. This pair of goals makes it easy to set up a soccer field in your backyard, a local park, beach, or campsite. Once removed from their carry case, the goals pop up instantly, so all you need to do is secure them with the included stakes.
These Sport Squad soccer nets have durable fiberglass support rods and a roomy mesh net. Despite their low price point, customers report that these mini soccer goal nets last for years, making them an excellent value for families who love soccer.
6. VavoSport Backyard Soccer Set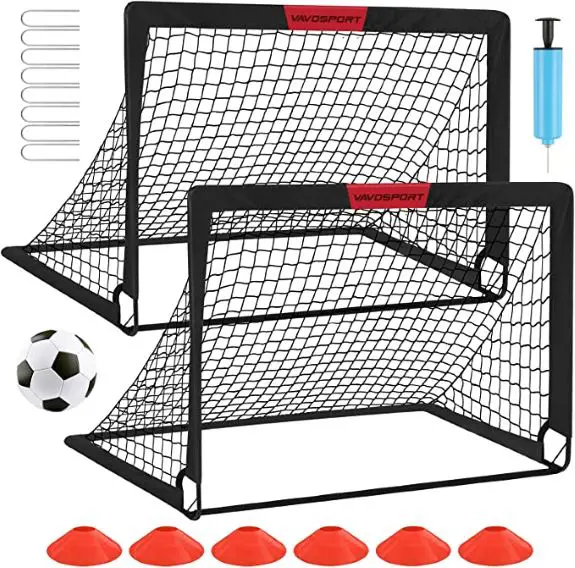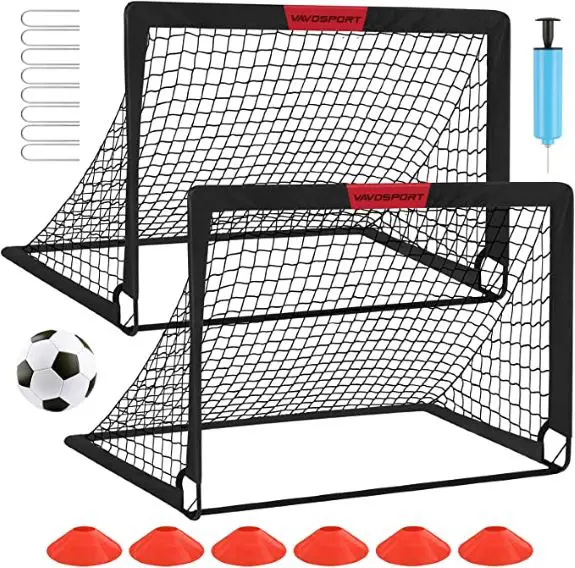 Best backyard soccer set

Ideal for kids who love soccer

4' x 3' folding goal

Includes two goals, eight ground stakes, one soccer ball, six disk cones, a portable air pump, and a carrying bag
Everything you need to enjoy soccer at home or on the go is included in the VavoSport backyard soccer set. This complete set comes with two high-quality goals for fun pickup games and six disk cones for running cone drills or setting up obstacle courses. It even includes a size three soccer ball, so you can start playing immediately.
The VavoSport soccer goals have 9.5mm fiberglass poles and a three-layer net for excellent durability. Set up, tear down, and storage are straightforward thanks to a unique collapsible design. The set also comes with an air pump, ground stakes, and a convenient carry bag that holds everything.
7. Kidodo Soccer Goal with Net Targets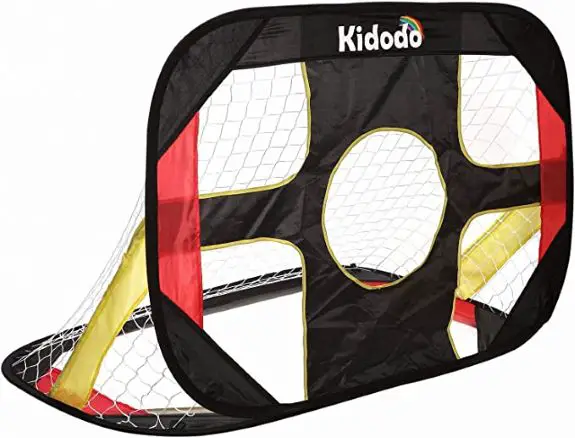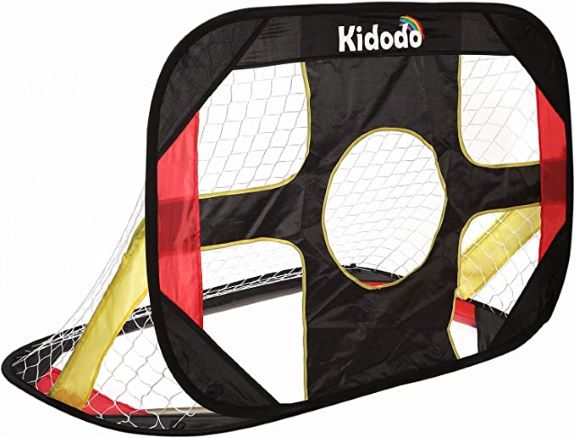 Best mini target net

Ideal for kids' skill progression

3.3' x 2.3' pop-up target net

Includes one reversible goal and carrying case
Make soccer practice fun with the Kidodo reversible soccer net. A regular soccer goal is on one side of this foldable net, while the other has a center hoop and four corner target holes. So whether you want to play a fun family soccer game or practice ball-handling skills, this net is a great option.
The Kidodo mini training goal is constructed from high-quality steel and water-resistant polyester. Four ground stakes help secure it to the ground, and the goal is easily reversible. It folds down easily to fit in the included carry bag.
8. Franklin Sports Soccer Rebounder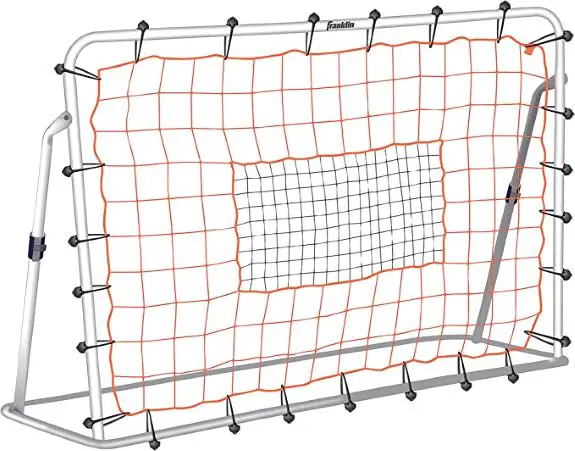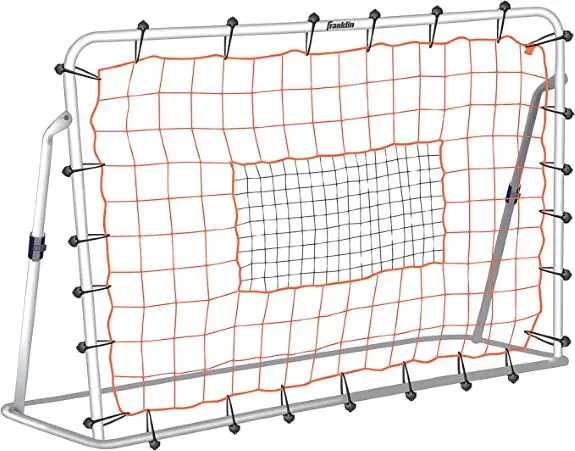 Best mini soccer rebounder

Ideal for home training

6' x 4' steel frame soccer rebounder

Includes one rebounder
Soccer rebounders are versatile training tools perfect for at-home soccer training. The Franklin Sports rebounder allows players to practice receiving passes without the need for another player since you can adjust the angle to practice ground, knee, chest, and head-trapping skills.
This mini rebounder from Franklin Sports has a durable steel frame construction and easy-to-use locking pins to ensure stability. A high-visibility net secured by strong bungee cords is pulled taut over the frame. In the center of the net, there is also a center target zone made from a contrasting color.
9. GoSports Portable Pop-Up Soccer Goals for Backyard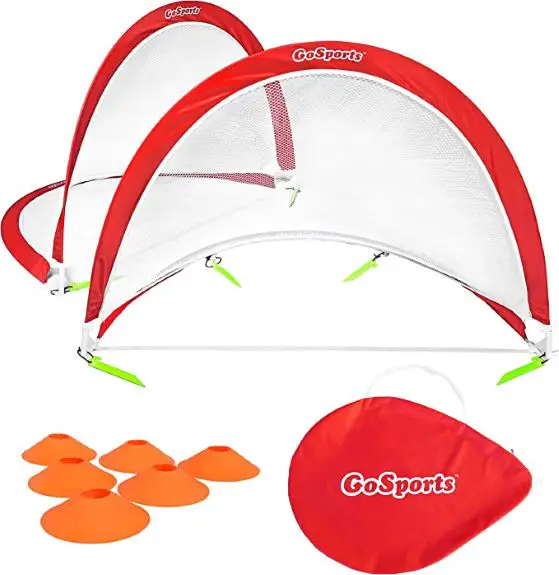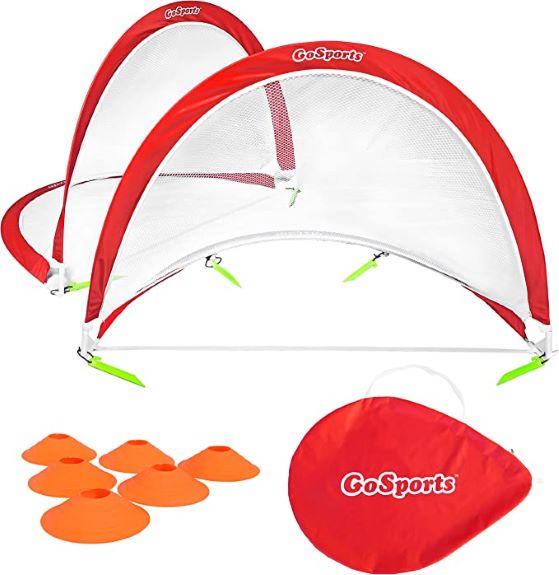 Best value mini nets

Ideal for goalie-free pickup games

2.5' round pop-up goals

Includes two goals, six cones, and a carry bag
The GoSports mini pop-up goals are an excellent value option for soccer lovers who want basic, easy-to-use goals. They have a low-profile round design and are easily secured into the grass using metal or kid-friendly plastic stakes.
The GoSports mini pop-up goals are made from premium nylon designed to withstand strong shots. They don't require assembly. Take them out of the carrying case, and they pop into place. After the score is decided, the goals fold up to fit back into the bag.
Whether you want to hone your soccer skills from home, play soccer with friends at the beach or park, or challenge your family members to a scrimmage, there's a mini soccer net for kids or adults that's perfect for you.
Where to buy mini soccer nets
Mini soccer nets are available both online and in stores. One of the best places to find a wide variety of mini nets, including new products, is Amazon.com. When you purchase a soccer net for backyards on Amazon, you can use gift cards or coupons at checkout.
Mini soccer net FAQs
Are all soccer nets the same size?
Regulation soccer goal posts and nets mainly vary in size based on the age of the players and where they're playing. For comparison, a professional FIFA goal is 24 feet by 8 feet, while mini soccer nets measure 12 feet by 6 feet or smaller.
What size is a kids' soccer net?
Soccer nets for kids vary in size based on age:
Ages 2 to 3:

3' x 5' or 4' x 6'

Ages 4 to 5:

4' x 6' or 5' x 10'

Ages 6 to 7:

5' x 10' or 6' x 12'

Ages 8 to 11:

6' x 18' or 7' x 21'

Ages 12 and up:

8' x 24'
How long do soccer nets last?
While soccer nets are made to withstand great stress, their average lifespan is around two years.
Why are soccer nets hexagons?
Newer soccer netting is often hexagon shaped for improved shock absorption and strength.