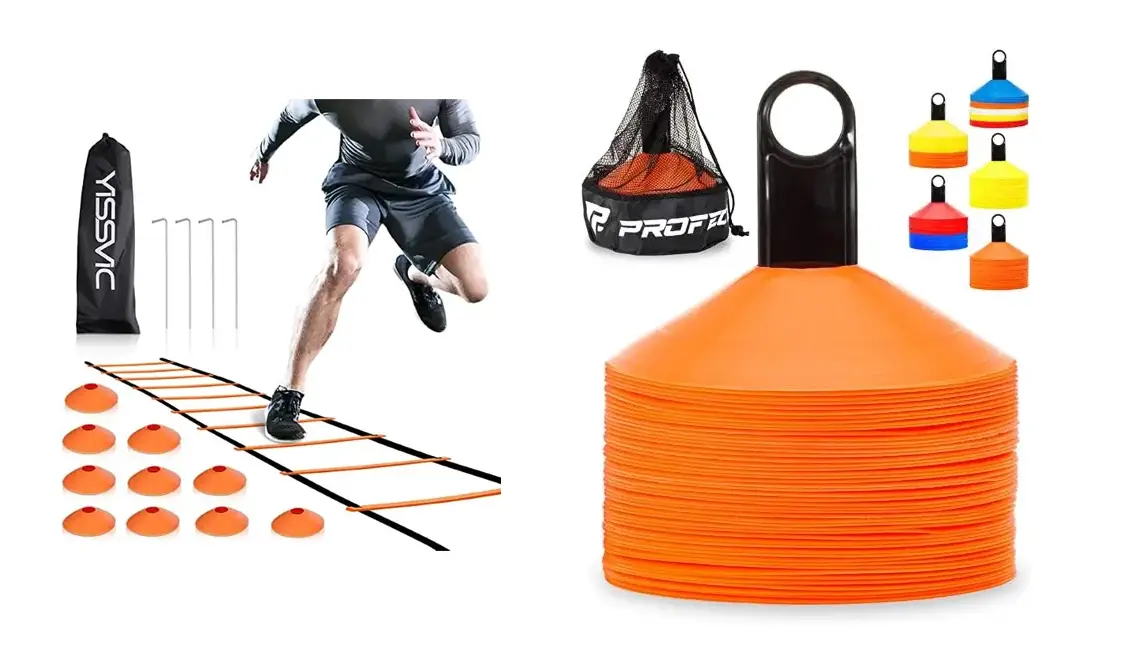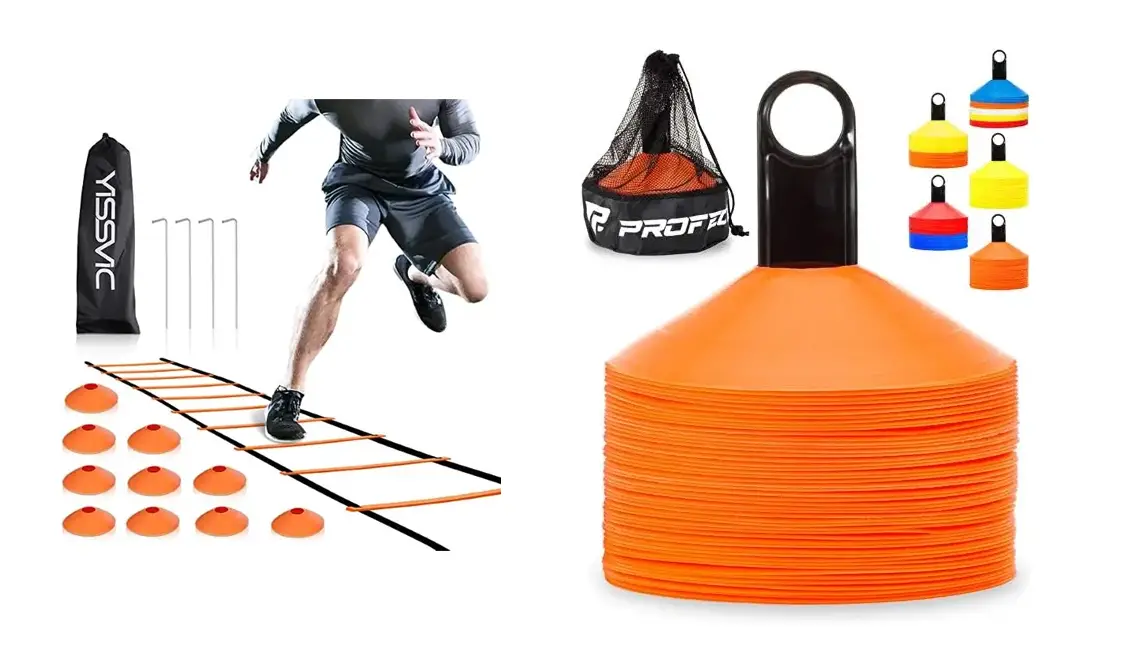 Training equipment doesn't need to be expensive or complicated. All you need are a few training cones to elevate your game. Learn more about cone drill training and discover the best athletic cones for your athletic goals.
Find training cones for every sport
How to choose training cones by sport
Nearly anything can be used as a cone, but proper training equipment can significantly affect your workout or sports practice. Also, depending on your sport, some cones are better suited for your needs than others. For example, mini traffic cones are popular cones for soccer training, while football training cones are often small disc cones.
The most common types of training cones include:
Disc cones:

These small, round cones are an excellent choice for many sports training and agility practice types. They're lightweight, cost-effective and available in a wide variety of colors.

Traffic-style cones:

When someone imagines a cone, a triangular traffic cone springs to mind. In athletics, mini-traffic cones are a popular option since they're highly visible and stackable.

Spot cones:

Flat spot markers are a great alternative to traditional cones for indoor court training. These cones are highly durable and safer for kids since they aren't a tripping risk.

Pop-up cones:

Large pop-up cones are an excellent way to simulate real defenders as they create a life-sized obstacle to move around. Jumbo-sized cones are also commonly used for marking play areas or creating makeshift goals.
Top cones for athletes
While most training cones can be used for any cone drill, different models are better suited to specific sports and training. Find the best set of cones for you here.
1. Pro Disc Agility Soccer Cones with Carry Bag and Holder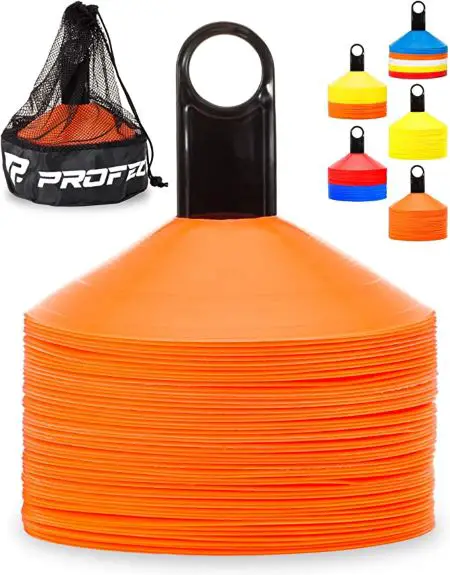 Best value disk cone set

Includes 50 disk cones, mesh carry bag, and e-book

Recommended for soccer, football, basketball, and youth coaching
These basic agility cones are a great option whether you're kicking around a soccer ball or running strenuous practice drills. These Pro Disk cones are best sellers with thousands of positive customer reviews. They're lightweight and colorful and come in a handy mesh carry tote for easy travel to soccer practice. Plus, they come with a free e-book, "Top 15 Speed, Agility, & Quickness Cone Drills," to get you started.
2. Mirepty 7-Inch Plastic Marker Cones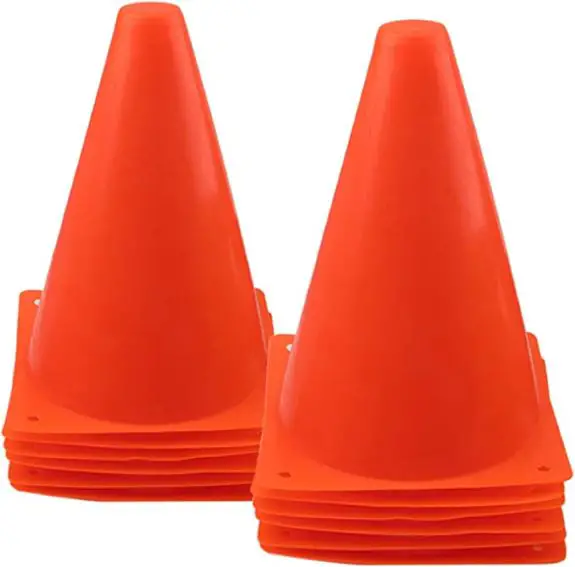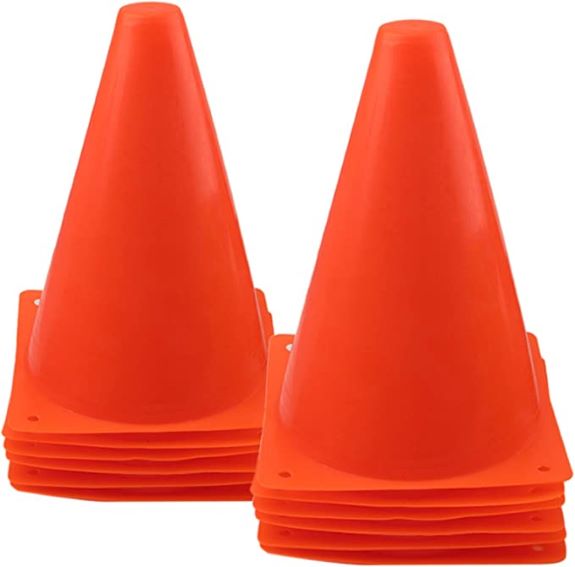 Best for roller skating and street sports

Includes 12 mini orange cones

Recommended for skating, soccer, cycling, and indoor/outdoor training
These mini plastic cones from Mirepty are highly recommended for creating parking lot obstacles for roller skating, street hockey, and youth soccer drills. They resemble a sized-down version of traffic cones and provide plenty of visibility. While these cones are slightly larger than disc cones, they are still compact and portable for multi-purpose use.
3. Ball Hog Gloves Basketball Training Cones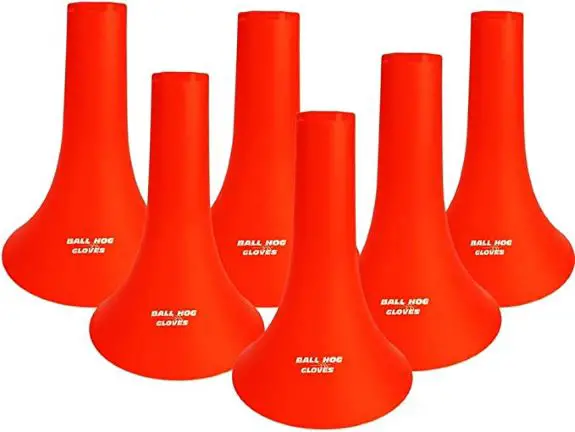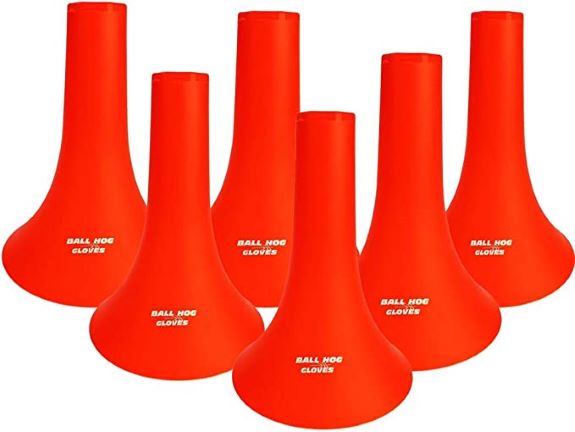 Best for basketball training

Includes six easy-stack cones

Recommended for basketball and other court sports
Serious basketball players deserve cones made especially for them. These Ball Hog training cones are ideal for practicing ball handling, shooting, and change of direction skills. They have a hard-to-topple flared base and come in high-visibility orange. Basketball coaches love how stable and durable these cones are compared to more expensive models.
4. YISSVIC Agility Ladder and Cones Training Equipment Set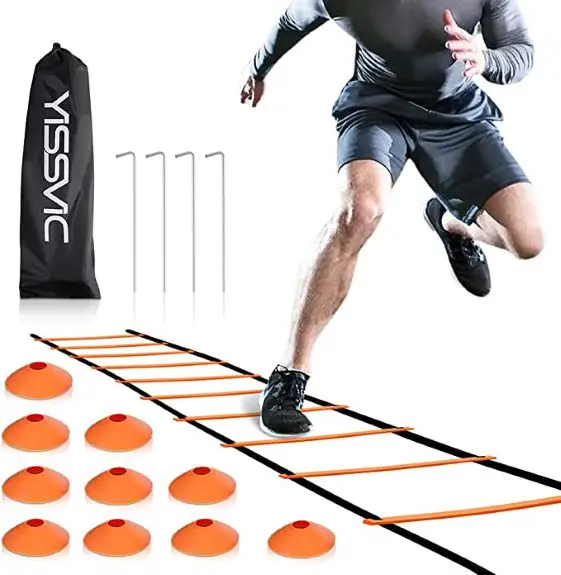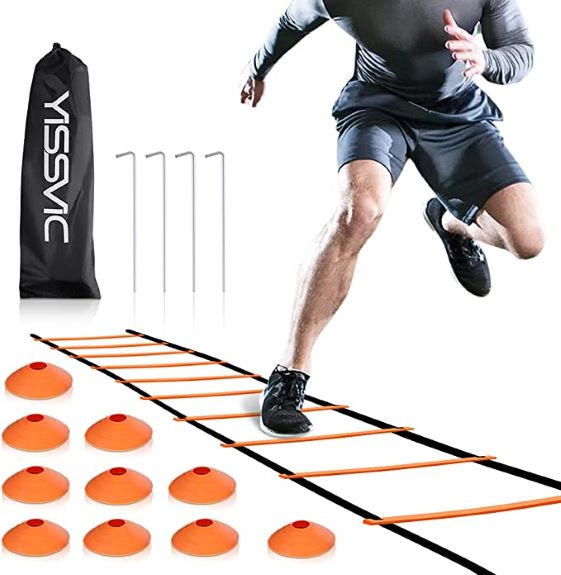 Best agility ladder package

Includes 10 disk cones, a 20-foot agility ladder, four stakes, and a carry tote

Recommended for competitive athletes in soccer, volleyball and football
Athletes and fitness buffs looking to take agility training to the next level should check out this agility combo set. Along with 10 multi-purpose disk cones, this set comes with a 2-foot agility ladder with adjustable rungs. So along with all the cone drills you can come up with, you can practice various fast-footed ladder drills simultaneously.
5. Pro Adjustable Hurdles and Cone Set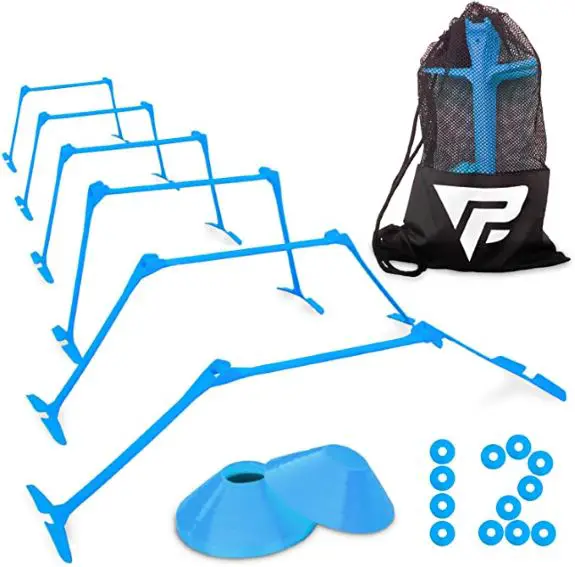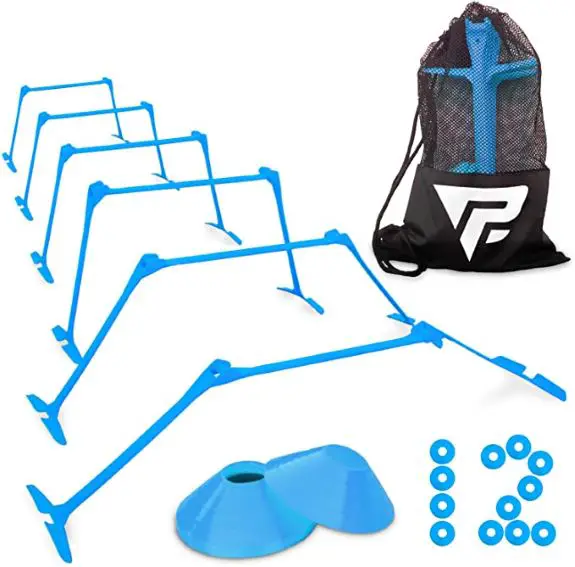 Best for versatile agility training

Includes 12 disc cones, six agility hurdles, and a mesh carry bag

Recommended for field sport athletes and cross country runners
Using hurdles and cones is a great way to work on your speed, footwork, jumping and plyometrics training. Along with twelve versatile disk cones, this agility set includes six adjustable hurdles that will get you to keep your feet up and heart racing. Each hurdle is adjustable and can be set to 6-inch, 9-inch, and 12-inch heights. The set is also highly portable so that you can practice agility training anywhere.
6. GoSports Modern Sports Agility Training Cones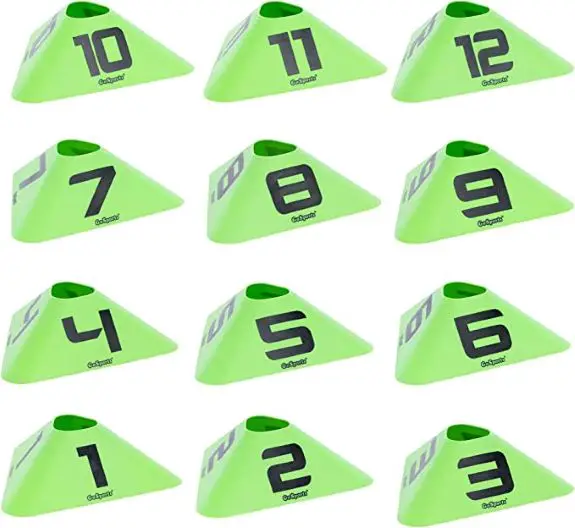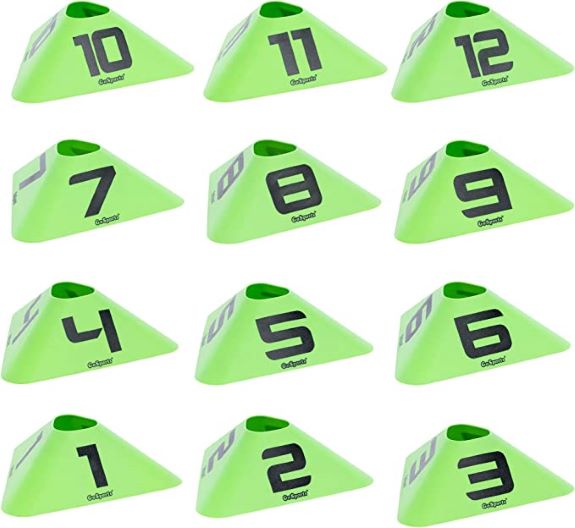 Best for coaching

Includes 12 numbered mini cones

Recommended for team athletes
This set of numbered cones makes it even easier to run drills with your athletes. These high-visibility cones each have a number 1-12 that make them ideal for coaches to direct athletes through drills. Coaches love these cones because they make it easy for players to identify precisely where they're supposed to go in an exercise or drill circuit. They are also made from hard plastic rather than lighter-weight materials, making them more stable than disk cones.
7. Franklin Sports High Visibility Training Disks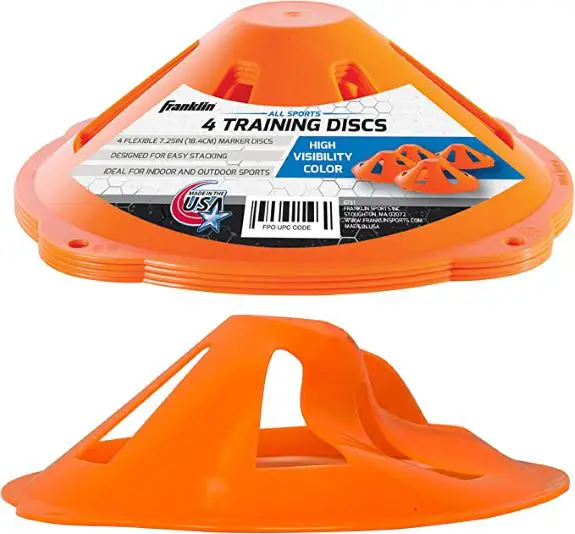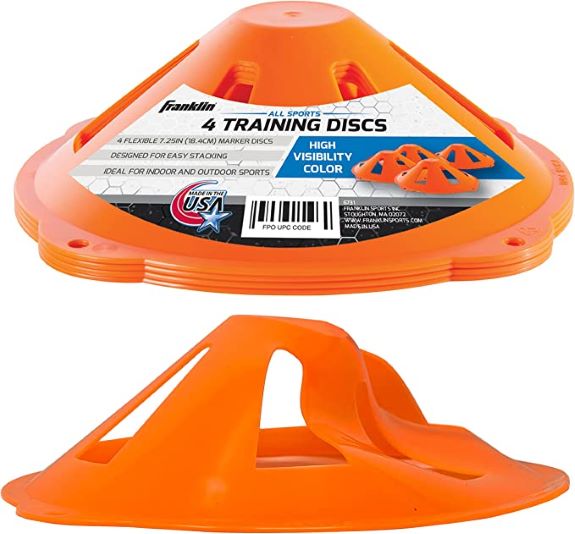 Best for minimizing injury risk

Includes four flexible disk cones

Recommended for youth field sports such as soccer
Youth sports coaches love these flexible, high-visibility training disks from the trusted athletics brand Franklin Sports. Rather than being made from rigid materials, these soccer training cones collapse on contact to reduce the chance of injury. In addition, they are lightweight and stackable, making them easy to tote to and from practice, and they even have a slot for using them with ground stakes.
8. Kwik Goal Mini Disc Cone Kit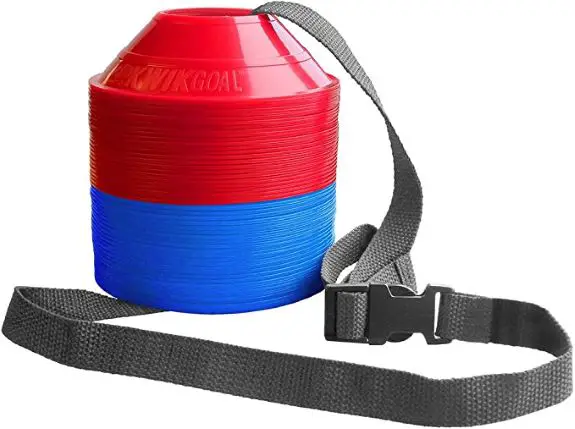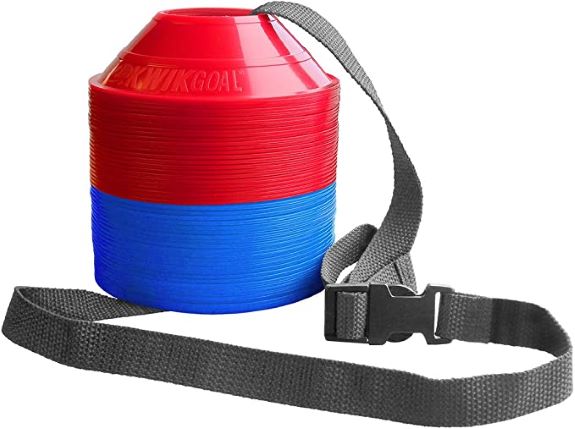 Best for team sport practice

Includes 50 disk cones and a carry strap

Recommended for team sports such as soccer, football, and basketball
This mini disc cone set from the leading soccer brand Kwik Goal is ideal for training and practice in nearly any team sport. Each one is slightly smaller than your standard disc cone, making them easily portable. Also, the set includes 25 cones of each color, which is great for competitive training drills. Youth and high school coaches share how high-quality and long-lasting these cones are in the product reviews.
9. HoopsKing Big Cone Sports Training Cone


Best for game-ready agility

Includes one jumbo-sized cone

Recommended for realistic gameplay practice for basketball and soccer players
As great as disc cones for soccer training and other small agility training aids can be, they can't simulate the size of a real defender. The Big Cone is an oversized cone that measures approximately three and a half feet tall and has a 20-inch diameter. Unlike its inflatable counterparts, the Big Cone has a heavy-duty construction with a two-pound weighted bottom and straps that can be staked down on windy days. Plus, an easy buckle system makes it easy to set up and take down.
10. TuXHui Flat Spot Training Markers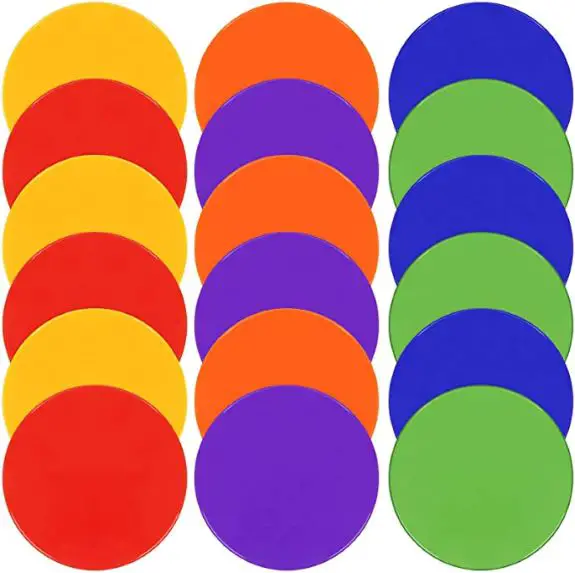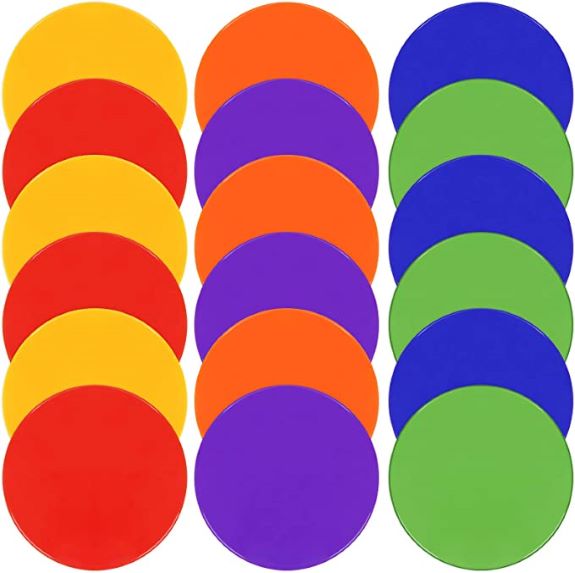 Best for physical education

Includes 18 10-inch floor dots and a mesh bag

Recommended for court sports and activities
While not technically a field cone, these non-slip rubber floor dots have plenty of relevance in agility practice. The flat spot markers are durable, flexible, and tear-resistant. Coaches love these rubber circles since they're nearly impossible to trip over, making them safe for fast-paced drills and gym activities. In addition, each set comes in bright, fade-resistant colors that improve visibility.
11. Sunnyglade Pop-Up Traffic Cones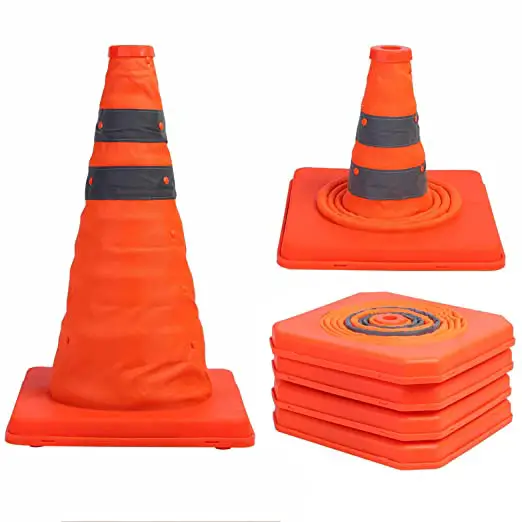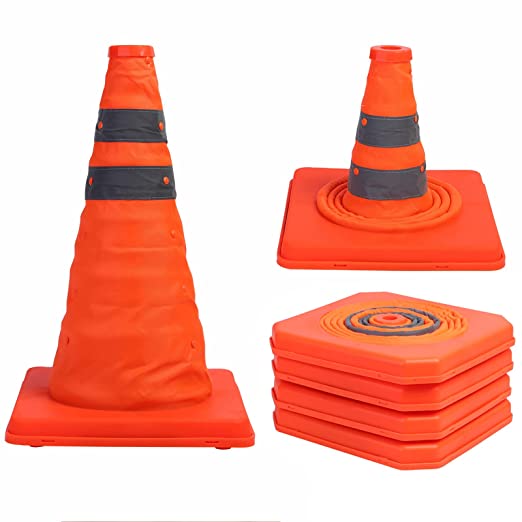 Best for makeshift boundaries and goals

Includes four large pop-up cones

Recommended for outdoor sports practice
Safety cones are helpful for more than parking and traffic direction. With these collapsible high-visibility cones, you can create everything from soccer goals to agility obstacles. Each cone measures 15.5 inches tall and collapses to a mere 1.38 inches for storage. They have a broad and grippy base to keep them from toppling over in windy conditions and are visible up to 800 feet away.
No matter your sport, workout, or training plan, cones are available to help you reach your speed and agility goals.
Training Cones FAQs
How do you use cones in training?
Cones and training markers are excellent tools for practicing agility and speed for many athletes. Using cones in your training is as simple as arranging them in a pattern and moving between them. Depending on what skills you're trying to improve, there are different cone drills for you to choose from.
What drills can you do with cones?
You can boost your training with various cone drills that get your heart pumping and your feet moving. Ideally, you want to move at full speed on the playing field while practicing cone drills. Here are three all-sport options to get you started:
X-drill:

For the X-drill, you want to arrange four cones in a square approximately five yards apart. Choose one cone to start at and run diagonally to the opposite cone. Then, shuffle laterally to the next cone and cross backward diagonally. Finally, you want to sprint to the starting cone. Be sure to repeat this drill in the opposite direction as well. This exercise practices footwork and body posture.

Slalom weave drill:

Athletes primarily work on agility in this weave drill. Set up 10 to 15 cones in a straight line around four yards apart. Then, you will want to run while weaving in and out of the cones. This drill is excellent for soccer and basketball players because you can add skill training by dribbling a ball while weaving.

3-cone L-drill:

The L-drill is a popular football agility drill that's great for any athlete looking to practice change of direction. In this drill, you want to set up the cones in an "L" shape around five yards apart. Start in a three-point stance at cone A and sprint to touch cone B. Sprint back and touch cone A with the same hand. Then, run back, make a hard turn around cone B, and make a figure-eight around cone C. After turning around cone C, keep sprinting back around cone B and past cone A. Finally, switch your starting cone and repeat in the opposite direction.
What is the 4-cone drill?
The 4-cone drill is another name for the box drill. This popular drill practices running, shuffling, and backpedaling.
For the 4-cone drill, arrange your cones in the same way as the X-drill, in the shape of a box five meters apart. Choose any cone to start and run forward to the second cone. Then, side shuffle to the third cone and backpedal to the fourth cone. Finally, turn and sprint to the first cone to complete the box.
Are cone drills effective?
Cone training drills can be a highly effective tool for many athletes. There are tons of different workouts you can do with the help of cones that allow you to practice agility through fancy footwork and speed through repetitive full-power movements. While all cone drills can provide a great workout, sport-specific drills aim to improve the skills necessary for success in your position.
How do you get faster with cones?
The best way to increase your speed is through practice. However, in nearly every sport besides running, athletes also need to be able to make quick turns and stops. Cone drills help mimic field or court conditions by combining agility and speed training so athletes can get faster in their sport.
Where can I buy training cones?
There are various training cones available for purchase, both online and in-store. Amazon is great for finding soccer training cones, football training cones, and more in different shapes, sizes, and quantities. In addition, their checkout options include making a wish list, and you can use Amazon gift cards or coupons to purchase training cones.