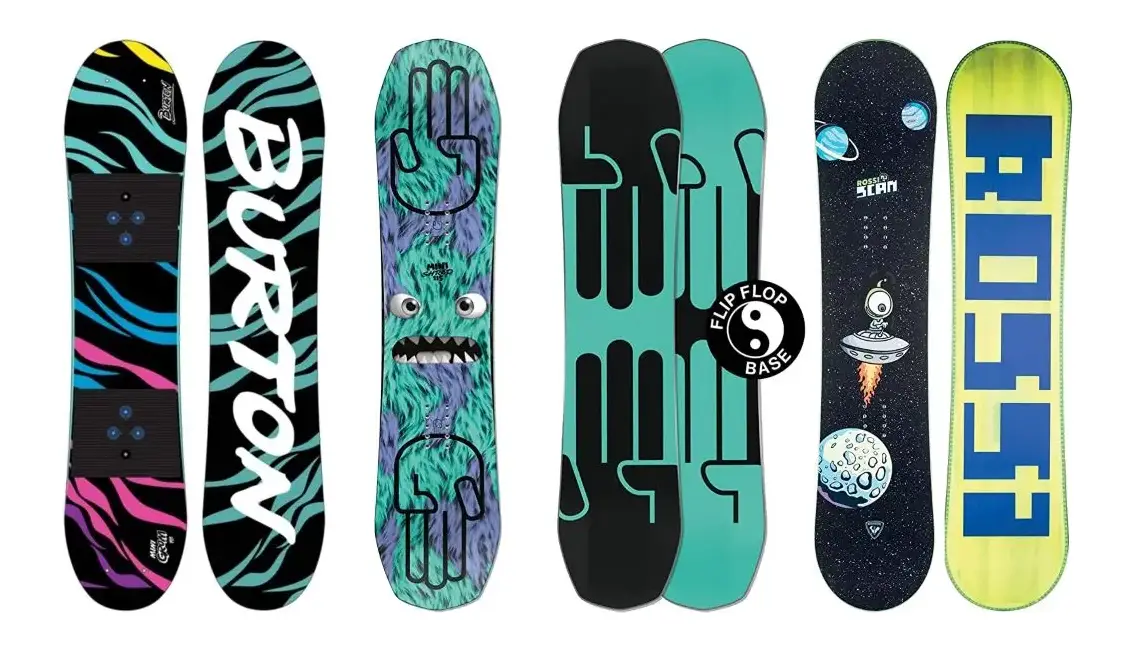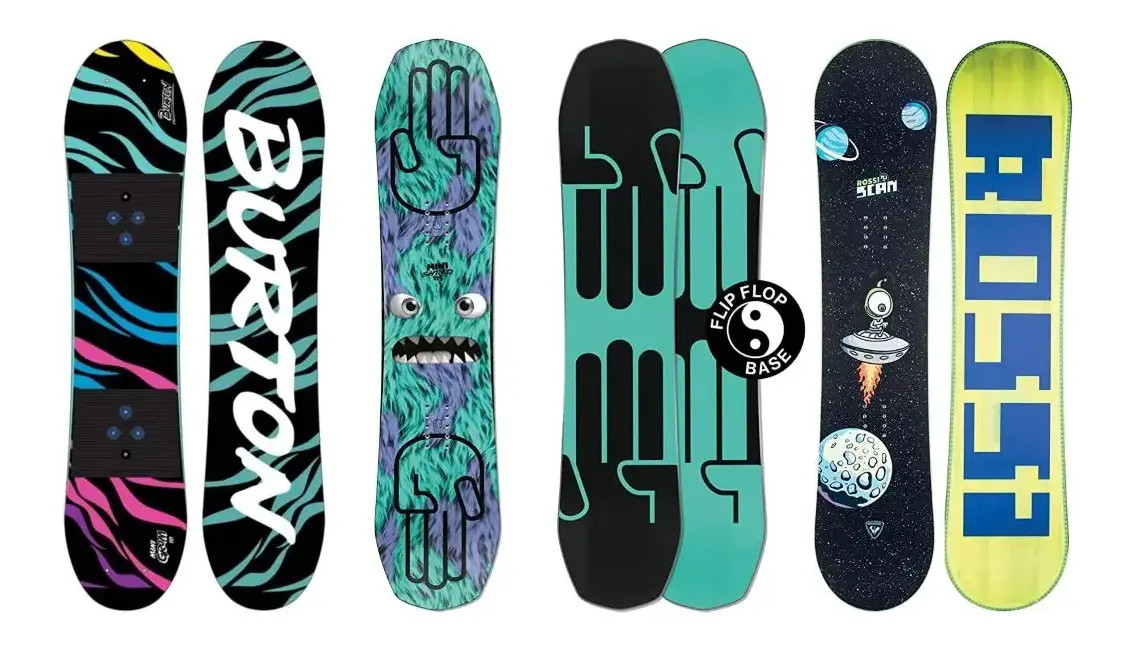 Whether your young rider has outgrown yet another snowboard or you're looking to introduce them to this snow sport for the first time, choosing the right kids' snowboard for them is essential. Learn how to select the best snowboard kids could ask for from the top youth snowboard models and get tips on what size snowboard for kids you need.
Find your youth snowboard
How to choose a kid's snowboard
No matter their age, snowboard bums deserve snowboard gear that fits well and supports their progression. So, when it comes to finding the right board, consider length, terrain, and camber.
Length
The weight and height of the rider determine the appropriate snowboard length. Ultimately, weight should be the determining factor. If your young rider is between sizes, be sure to choose the shorter board if they are light for their height and the longer board if they're a bit heavier.
Most manufacturers and snowboard shops have a sizing chart that you can refer to, but here is a basic kids' snowboard size chart to get you started:
3 years old / 37" tall / 34lbs: <80cm board

4 years old / 40" tall / 37lbs: 80-90cm board

5 years old / 43" tall / 42lbs: 85-95cm board

6 years old / 45" tall / 46lbs: 90-100cm board

7 years old / 47" tall / 50lbs: 95-105cm board

8 years old / 50" tall / 57lbs: 100-110cm board

9 years old / 53" tall / 63lbs: 105-120cm board

10 years old / 55" tall / 70lbs: 110-125cm board

11 years old / 57" tall / 79lbs: 115-130cm board

12 years old / 59" tall / 89lbs: 125-135cm board

13 years old / 61" tall / 100bs: 130-145cm board

14 years old / 65" tall / 112lbs: 140-150cm board
Board type
Depending on the terrain and style of riding, kids need different types of snowboards. There are five main types to choose from for youth snowboards:
All-mountain:

Most youth riders are beginners and need beginner-friendly boards. Therefore, all-mountain snowboards are the most popular style for youth snowboards. These boards are designed to work well in all snow conditions, including groomed runs and powder. In addition, they have a medium amount of flex, making them adaptable to any terrain and the most versatile of any board type.

Freestyle:

Young snowboarders who would rather spend the day riding rails and hitting jumps are better suited to a freestyle park board. These boards have a softer flex for better agility and are shorter than the average board.

Freeride:

If off-piste exploration is your kid's idea of adventure, a freeride board might be the right option. These boards are made to handle terrain all over the mountain, have a stiffer flex, and are a bit longer for better stability.

Splitboard:

Splitboards are relatively new and less popular for youth than adults, but they can be great for young backcountry riders. These boards break down into two halves for easy touring and use uphill and then can be reconnected for a normal downhill ride.

Powder:

Powder boards are specially designed to help riders float through powder. They have a wider nose, a tapered tail, and set-back binding inserts. These boards also tend to be longer and wider than other snowboards.
Camber and rocker
The bend of a snowboard makes a massive difference in performance. If you look at a snowboard from the side, you will see that the sides or middle of the board lift from the snow to create a gap. This shape is referred to as the camber and rocker of the board.
Camber:

A cambered board has a center that lifts away from the snow for a more stable ride and better responsiveness on groomed runs. Experienced riders typically prefer cambered boards.

Rocker:

A rocker or reverse camber board has an upturned tip and tail for great powder and park riding performance. Rocker snowboards tend to be more popular with newer riders.

Flat:

Flat boards don't have a curve in the middle of the board but may have rockered tips. These boards have good edge hold and enable quick turns.
Top youth snowboards for young riders
If you're looking for the ultimate youth snowboard for your little ripper, check out these top choices and have the best family snow sports season ever.
1. Burton Mini Grom Kids Snowboard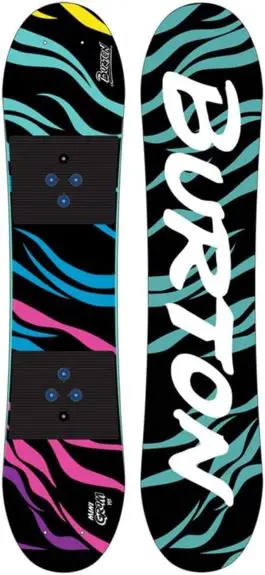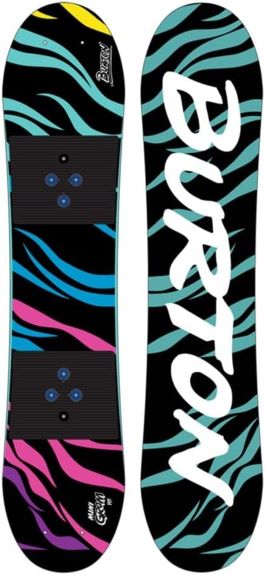 Best for beginner stability

All-mountain and park board

Available in 80cm, 90cm, and 100cm
The Mini Grom snowboard is the kid-sized version of the bestselling Burton Grom snowboard. This board has a twin shape and twin flex for a balanced ride, whether you're riding regular or switch, while the flat top bend offers stability, balance, and continuous edge control. An easy bevel and convex base make this board soft, forgiving, and nearly impossible to catch an edge. It's made with a tip-to-tail fly core that's lightweight without sacrificing strength, pop, or strength. For beginner riders, you can attach the Burton Riglet snowboard accessory to the nose or tail to tow around your little rider with or without bindings.
2. Rossignol Scan Kids Snowboard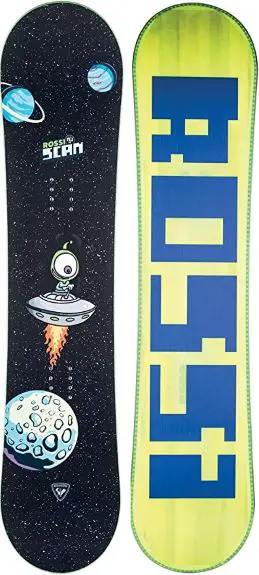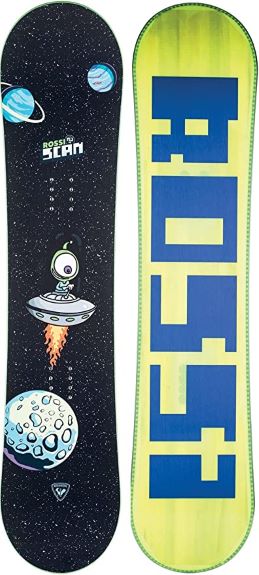 Best for freestyle riding

All mountain and freestyle board

Available in 80cm, 90cm, 100cm, 110cm, and 120cm
The Rossignol Scan is the ideal kids' snowboard for new freestyle riders needing easy control. This board features effortless mobility, float, and a catch-free feel thanks to its Amptek auto-turn rocker design with an 80/20 rocker/camber blend. It also has a deep side cut and ultra-soft flex, making the Scan an easy-to-maneuver true twin freestyle board. With this playful board, all pint-sized riders need is an all-access mountain pass for a fantastic snowboarding season.
3. Bataleon Kids Minishred Snowboard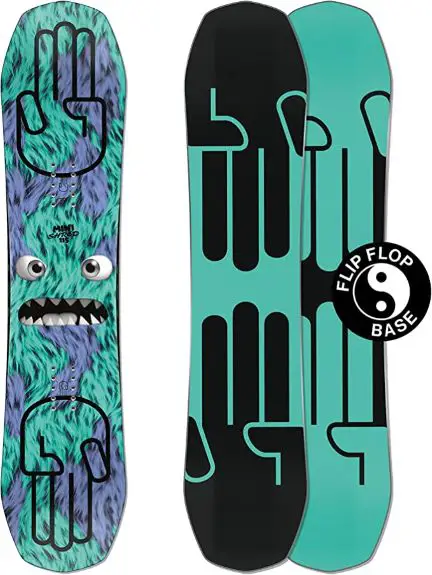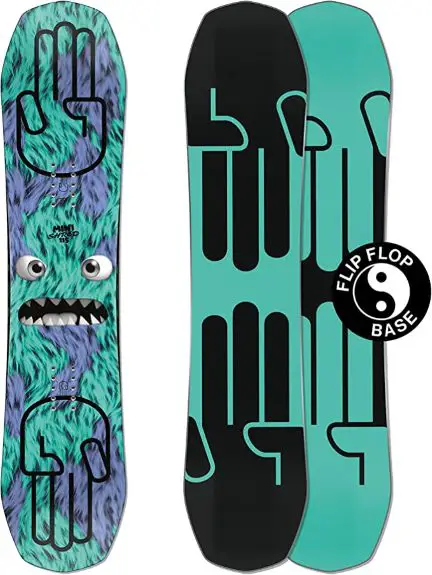 Best for turning development

Park and resort board

Available in 85cm, 105cm, and 120cm
Young riders just figuring out their stance and trying out switch for the first time will love the Bataleon Minishred. The Minishred has raised edges that make it as easy as possible for kids to turn, while the lower camber makes the board ride smoother at lower speeds and in powder. It also has a low nose and tail side base uplift to compliment the board's 3BT triple-base technology and minimize edge catch without sacrificing carving performance.
4. Rome Kids Minishred True Twin Snowboard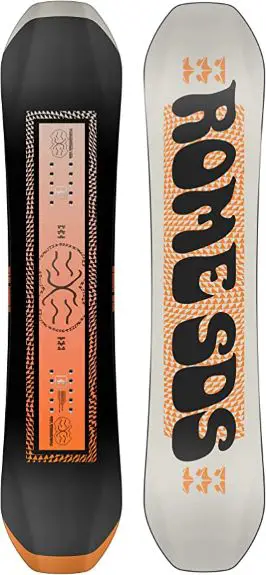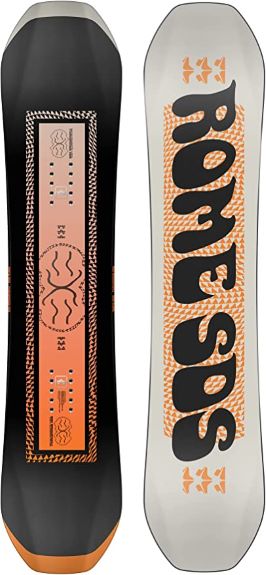 Best for lightweight performance

All mountain and park board

Available in 90cm, 100cm, 110cm, and 120cm
The Rome Minishred youth snowboard is an excellent choice for young shredders looking for a lightweight board with smooth performance. This board has a 100% Paulownia wood core, one of the lightest and snappiest on the market. In addition, it features a true twin design with a Twin Diamond 3D in the nose and tail, making this board great for practice and catch-free riding. The flat camber between the bindings and rocker outside also makes this board highly flexible and pressable.
5. Burton Chicklet Girls Snowboard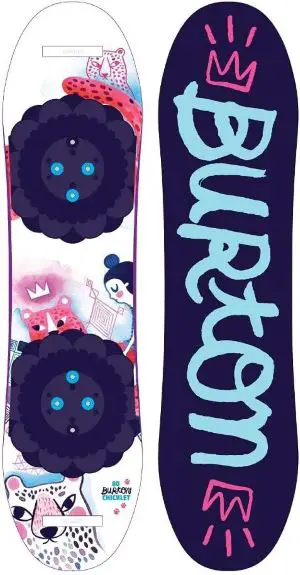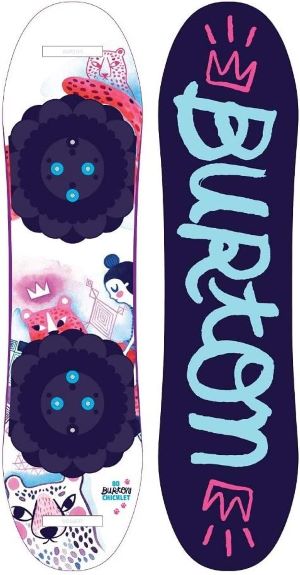 Best for beginner girl riders

All-mountain board

Available in 90cm, 120cm, 125cm, and 130cm
The Burton Chicklet is the ultimate girls' snowboard for learning to ride and developing your skills. It features a perfectly balanced and symmetrical twin shape for optimal stability, whether riding regular or switch. This board is also soft and forgiving with plenty of flex, and a convex base lifts the edges off the snow to prevent catching an edge. The Chicklet girl's snowboard is made from tip-to-tail Fly 900G wood core for a lightweight ride with plenty of flex, pop, and strength.
6. Symbolic Arctic Kids Snowboard and Bindings Package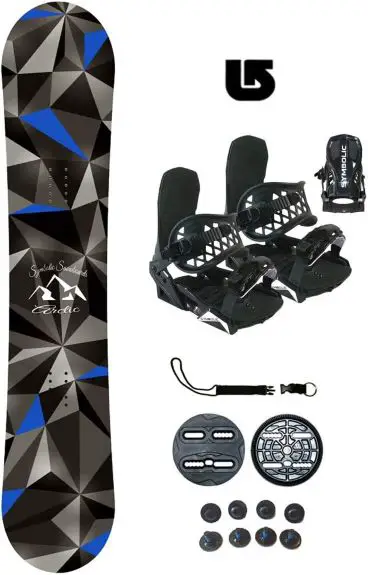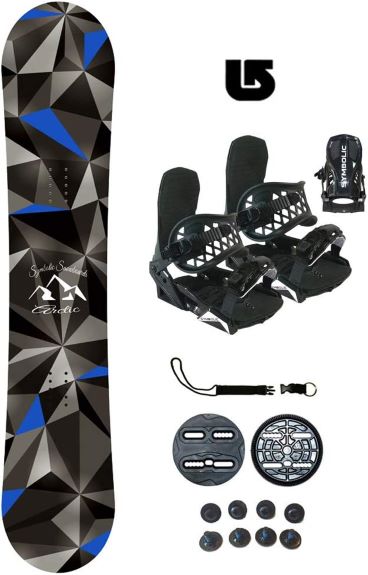 Best value kids' snowboard

All-mountain board

Available in 90cm, 100cm, 110cm, 120cm, 130cm, 135cm, and 140cm
The Symbolic Arctic kids' snowboard package is a board and snowboard binding combo offering excellent performance at a reasonable price. This all-mountain rocker has an ABS sidewall construction for improved edge hold on hard-pack snow and a Flexrite wood core that minimizes vibration. In addition, it has a durable 4400 extruded base and rocker profile for easier turning. The Symbolic Arctic looks as great as it performs with a high-gloss finish and matte graphics. Plus, the included bindings are high quality and adjustable.
7. Salomon Grail Kids Snowboard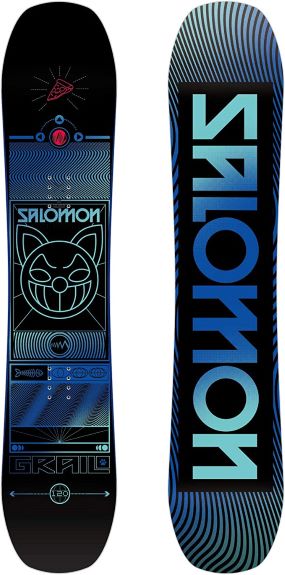 Best for entry-level progression

Park, freestyle, and all-mountain board

Available in 120cm
The Grail kids' snowboard from Salomon is specially designed to help beginner and intermediate youth riders develop their skills. This board has a patented Super Flat profile and concave Bowl Skate Base to make turning easy even for the newest rider. Meanwhile, bite-free edges help prevent hang-ups when riding downhill, and its true twin symmetrical profile improves balance. In addition, the Salomon Grail has an FSC-certified environmentally friendly wood core and natural wax finish.
8. CAPiTA Jess Kimura Mini Youth Snowboard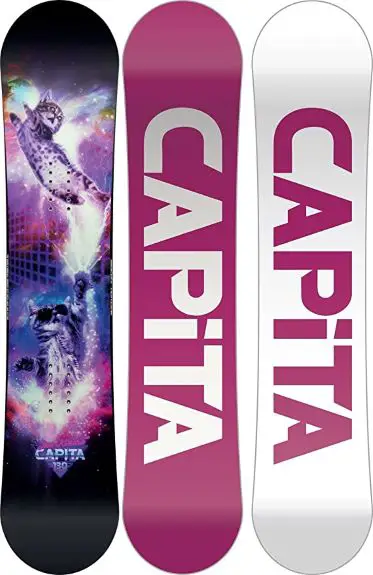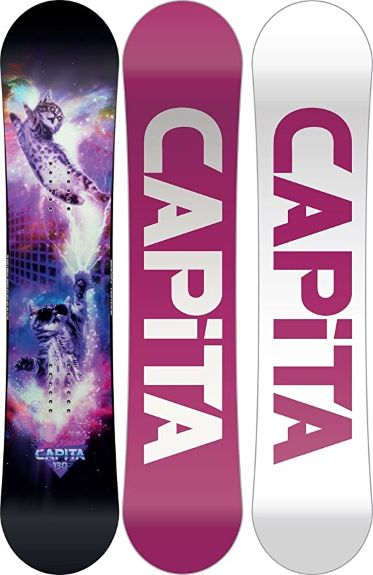 Best girls' snowboard for advancement

Park and all-mountain board

Available in 120cm, 130cm, and 135cm
Bridging the gap between CAPiTA's Micro Mini and their main line of women's boards, this mini-shred girls' snowboard is a technology-packed resort board perfect for older kids. It has an FSC dual core for plenty of pop, uniform flex, and consistency for lightweight riders. In addition, this board is environmentally friendly and durable, with sustainable wood cores and a high-pressure extruded base. Plus, the fan-favorite Jess Kimura graphics add a cool element that tweens and teens love.
9. Burton Yeasayer Smalls Girls Snowboard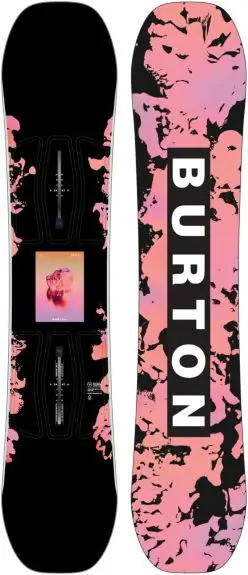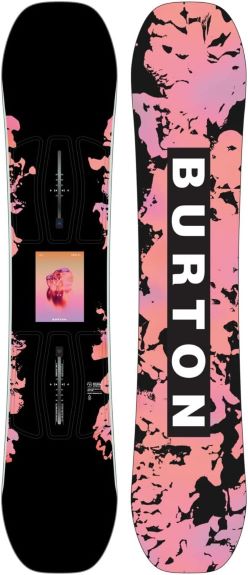 Best for intermediate girl riders

All-mountain and park board

Available in 130cm and 134cm
Girl riders who have mastered the basics need a snowboard that gets them to the next level. The Burton Yeasayer Smalls is ideal for young female riders ready to explore the entire mountain. This board is still soft and playful but stiffer than Burton's beginner boards when it's time to ramp up the riding intensity. In addition, it features a flat top bend for stability, a catch-free tip and tail, and a snap that you would expect from camber. The Burton Yeasayer Smalls also has a Super Fly 800G wood core and a Filet-O-Flex core profile.
With these kids' snowboards and shopping tips, you can find the perfect model for every young snowboarder, from the littlest riders to big kid shredders.
Other gear for youth snowboarding
Snowboarding requires more than just a board. Before you embark on your next family snowboard adventure, ensure your kids have everything they need to conquer the mountain, such as:
Kids' snowboard boots

Bindings

Helmet

Goggles

Beanie

Snowboard socks

Thermal underwear

Mittens or gloves

Neck gaiter

Outerwear, including a jacket and ski pants
Backpack or daypack

Water bottle

Sunscreen
Kids' Snowboard FAQ
What size snowboard for kids do I need?
The right size snowboard depends on your child's height, weight, and ability. A kids' snowboard size chart can help give you a good idea of the best board length for a particular kid, but as a general rule, a board should come up somewhere between their chin and chest. It's also important to have them fitted for the proper kids' snowboard boot size.
When should I start my kid snowboarding?
Since snowboarding requires more balance and stamina than skiing, kids tend to start a few years later in the sport. However, by around age seven, kids are usually ready to start learning how to snowboard.
Is it easier to ski or snowboard for kids?
Skiing is a little easier than snowboarding for kids to pick up the basics because it requires fewer fine motor skills. However, once they get the hang of being on a snowboard, kids often advance to an intermediate level at a faster rate than with skiing, as there's less technique involved.
Is it safer to ski or snowboard?
Cautious parents often wonder which snow sport has the least likely chance of injury. While neither sport can be 100% safe, snowboarding has a higher risk of injury, but skiing has a higher fatality risk. No matter what sport they choose, it's vital that kids wear helmets on the mountain.