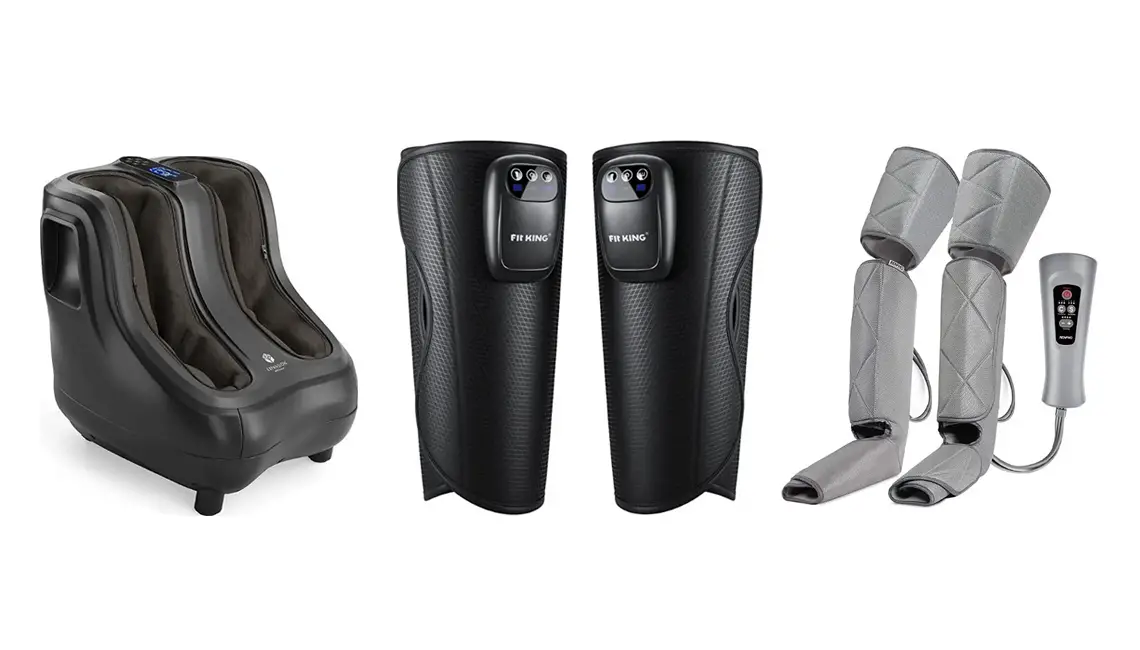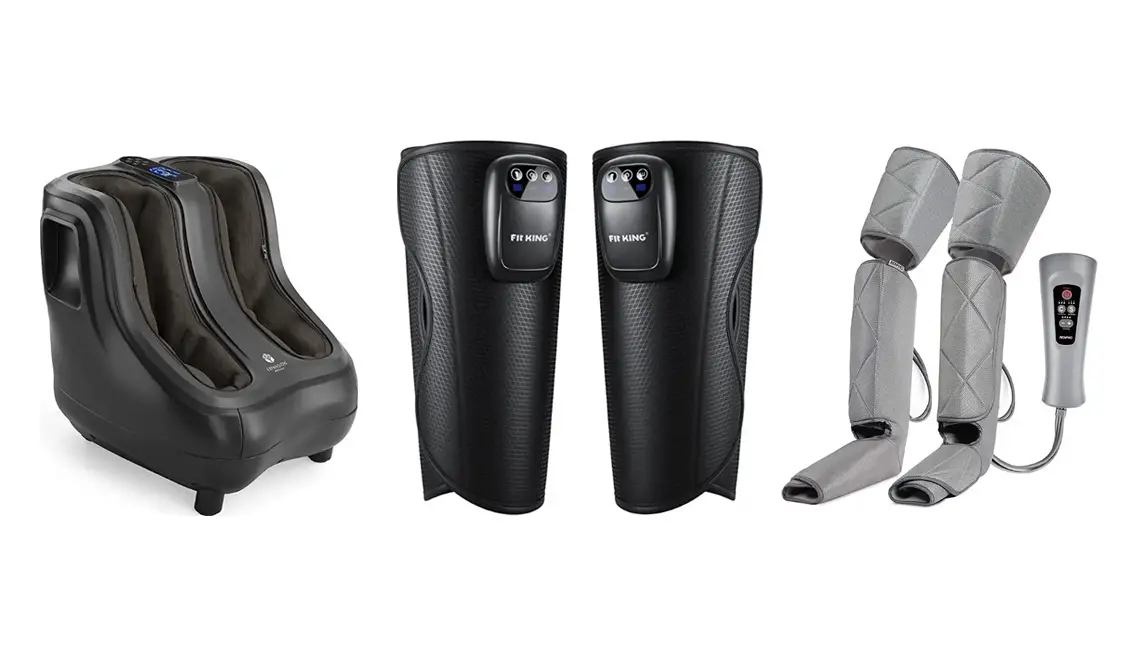 Need relief for sore, achy legs? Want to boost your recovery time after a workout or improve your circulation? A leg massager offers a simple, convenient way to feel rested and recharged. Learn more about the different types of massagers available and what kinds of conditions can be relieved through an effective leg massage.
Treat your legs to some TLC
What are the benefits of a leg massager?
There are a number of benefits to using an at-home leg massager, including:
Pain relief:

Massaging devices can help to alleviate soreness and tension from your leg muscles.

Faster recovery after training or exercise:

Massaging your legs after intense activity helps prevent delayed onset muscle soreness so you feel less stiff after a workout.

Improved sleep:

The muscle tension you experience during a leg massage can help you unwind to encourage more restful sleep.

Better circulation:

Massages can stimulate blood flow, which is healthy for your heart and helps your body's organs function properly. It can also assist in faster recovery from injuries.

Reduced inflammation:

Using a massager can help to minimize swelling and inflammation in the legs. Certain types of massage can promote drainage of fluids from the tissues.
Types of leg massagers
Different types of massage can be applied using at-home devices. It's important to know which type of massage is the best fit for you so you can find a leg massager that gives you the desired effect.
Shiatsu massagers
Shiatsu is a type of Japanese massage that has been around for centuries. It involves applying pressure to specific points to alleviate pain and loosen the muscles.
Deep tissue massage
Deep tissue massages involve firm, slow strokes that penetrate further below the skin to help relax tense areas and reduce muscle soreness.
Percussive massage
With this type of massage, rapid and repetitive pressure is applied along with vibration therapy. Percussive massage is commonly used to help prevent post-workout soreness and can help soothe aching muscles.
Compression massage
A compression massage involves controlled pressure applied to the legs to help improve blood flow to the heart. A leg compression massager is especially useful for boosting circulation and decreasing swelling.
Swedish massage
Swedish massage uses long, gliding strokes in the direction of the heart to improve circulation and enhance relaxation. This type of massage is similar to the effect you get from airbag massagers.
Leg massager features to look for
When selecting a leg massager for your personal care, you'll want to think about which features are best suited to your unique needs, such as:
Heating
Heat therapy can help to alleviate pain, increase blood flow, and encourage faster healing. It may also make you feel more relaxed during your massages.
Custom settings
The more massage styles and intensity levels a device has, the more you can customize it to your liking. Some devices also come with presets to achieve certain results. Look at the specifications for each leg massager to find out how many options are available.
Control location
Where are the controls for the leg massager located? Many are built directly into the device, while others come with a convenient remote control. There are also some advanced leg massagers that feature compatibility with a smartphone app.
Portability
Larger devices aren't as easy to take on the go as smaller ones, so consider that if you want to bring your leg massager to the gym or take it with you when you travel. In addition, consider whether the device needs to be plugged in while in use or if it has a rechargeable design that allows you to use it anywhere.
Storage
Some leg massagers come with a carrying case or storage bag. This may be helpful if you need to tuck it out of the way when not in use.
Warranty
Always consider how durable a leg massager is before making a purchase. Many devices come with a warranty, which can provide peace of mind that you can have it repaired or replaced if it malfunctions.
Top leg massagers for at-home use
Now that you know more about the different types of leg massagers and which features are available, it's time to find the right device for you.
1. Human Touch Reflex SOL Foot & Calf Massager with Heat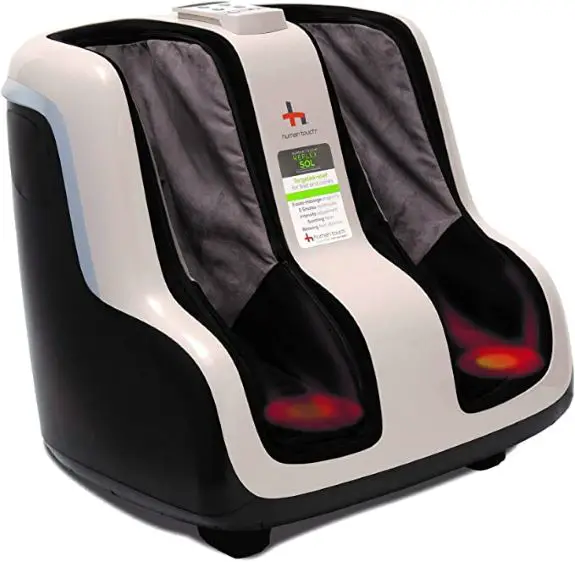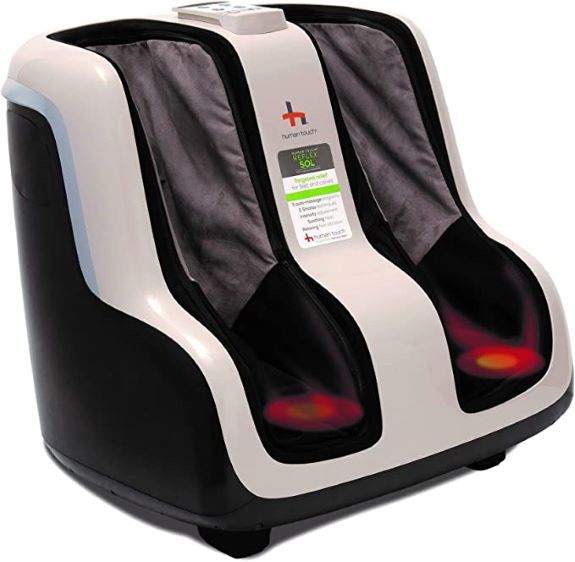 Best foot and leg massager

Kneading Shiatsu foot massager and calf massager

Heat and vibration settings
The Human Touch Reflex SOL offers targeted relief for your lower legs. This calf and foot massager machine helps to provide fast relief for soreness while relaxing your body. Use Shiatsu massage modes and the heat function to rejuvenate the muscles, and incorporate the CirQulation Figure-Eight Technology to improve blood flow. It's easy to adjust the intensity level to your needs using the on-board console, and you can tilt the base to achieve the most comfortable angle while seated. The sleeve inserts in this foot and calf massager are removable for easy washing at home.
2. Fit King Upgraded Cordless Calf Massager for Circulation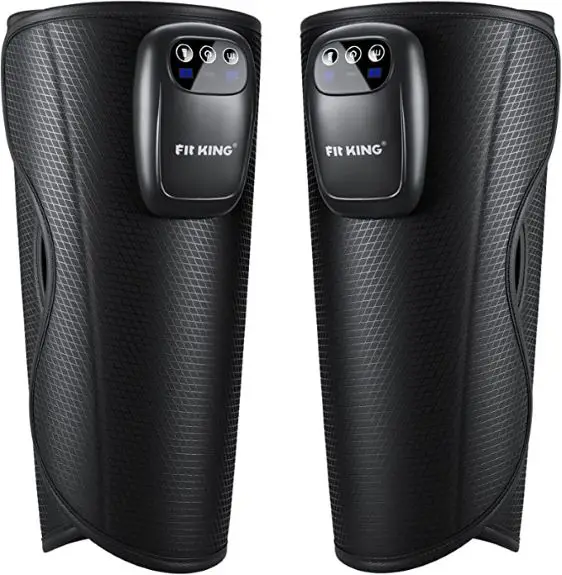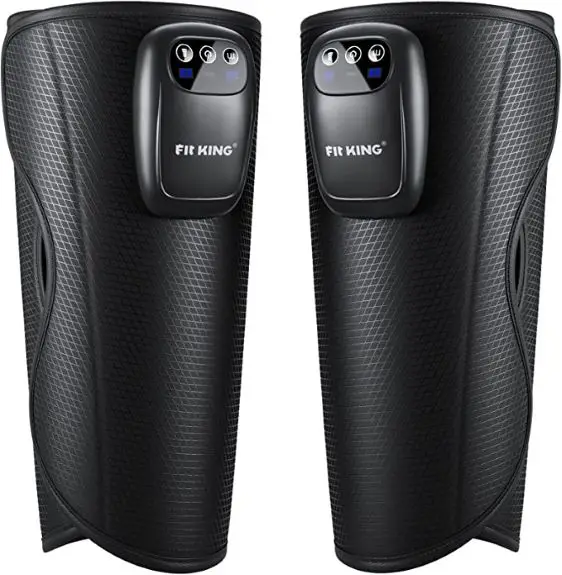 Best calf massager

Kneading calf massage

Portable and rechargeable
With the Fit King Upgraded Cordless Calf Massager, you can get relief for muscle aches and pains and increase circulation even when you're on the go. This set of compact, portable massaging sleeves is rechargeable and has a lightweight design, so you can move around freely while treating your legs at the same time. Velcro closures make it easy to put them on and take them off, even for the elderly or those with limited mobility. The kneading and stroking action helps to provide fast relief and accelerate healing and recovery. There are three massage modes and control buttons built directly into the sleeves, so you can even customize the settings for each leg.
3. Renpho Leg Massager for Foot, Calf, and Thigh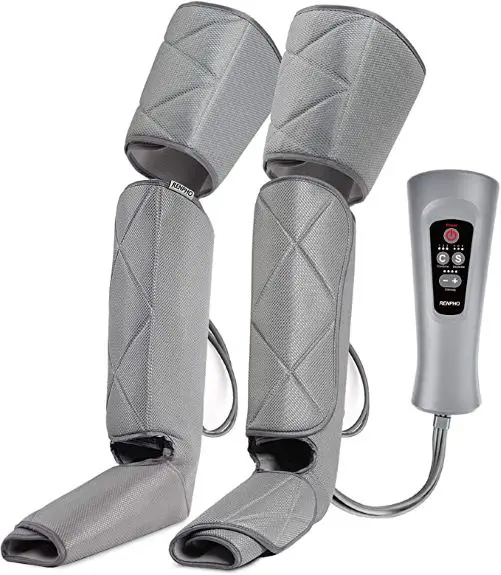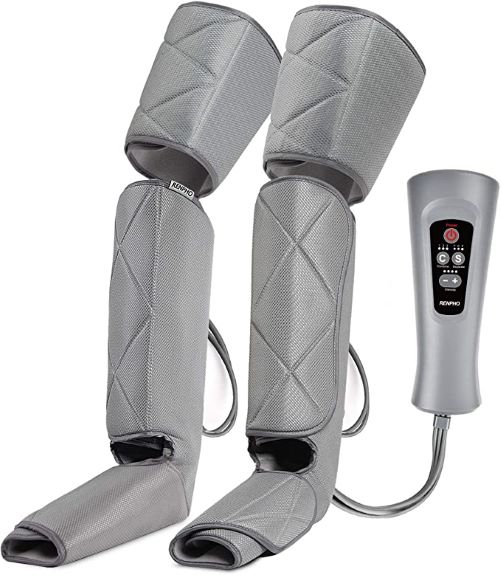 Best full leg massager

Compression massage sleeve set

Handheld controller
Get relief in your legs from top to bottom with this Renpho full leg massager. It offers compression massage that extends through the feet, calves, and thighs. Gaps at the joints enable you to bend at the knee and ankle, so you can find a comfortable position during your massage experience. This Renpho massager features six massage modes and four intensity levels to help you get the best level of relaxation and relief. With over 16,000 ratings, this massager is one of the best sellers on Amazon for a reason. Customer reviews note that this massager is particularly easy to use and helps with a variety of concerns, including edema, post-workout recovery, and aches and pains.
4. Therabody RecoveryAir PRO Compression Massage Boots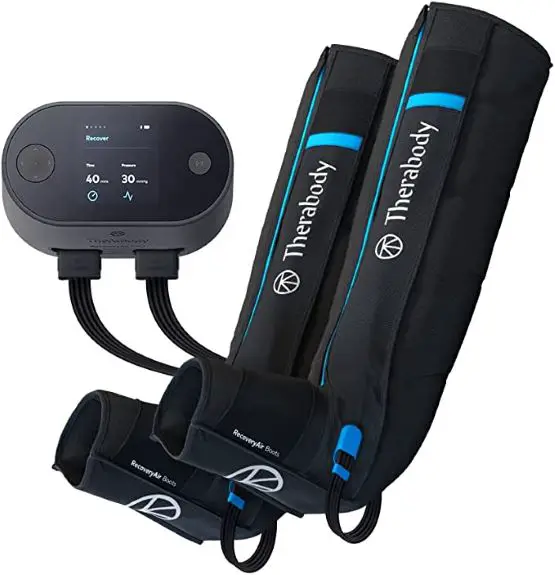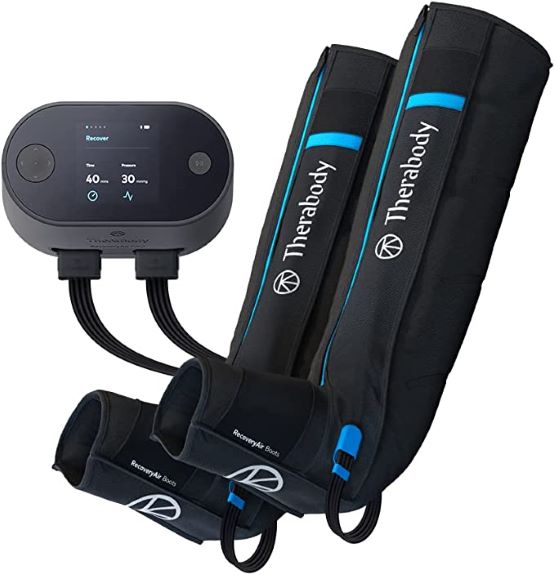 Best air compression leg massager

Fully customizable compression massage

Faster pressure massage for rapid recovery
Few leg massagers come with as many bells and whistles as these Therabody RecoveryAir PRO Compression Massage Boots. This advanced leg compression massager features FastFlush Technology which works two to three times faster than most other models by completing a full cycle of inflation and deflation in just 60 seconds. The massage boots' TruGrade Technology also applies precise pressure to create a safer true negative gradient from the feet to the heart and back again. Customize your massage experience with four preset programs or use PRO mode to control the inflation cycles, time settings, and precise pressure in each individual chamber. The RecoveryAir PRO has a 240-minute battery life and is compatible with a helpful Therabody app.
5. KoolerThings Shiatsu Heated Foot & Calf Massager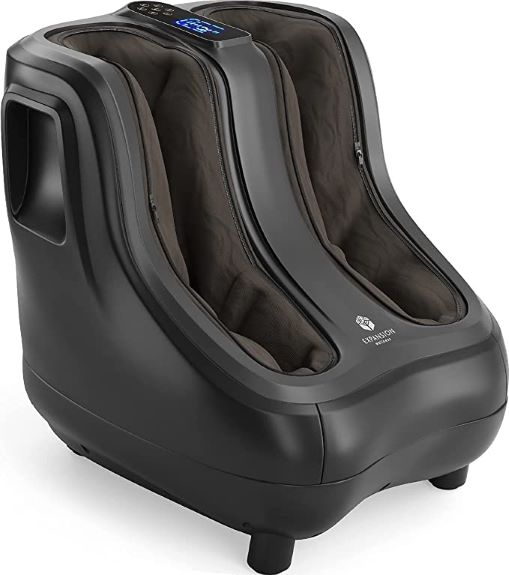 Best kneading leg massager

Includes calf kneading and calf scraping massages

LCD touch display
Rejuvenate your legs and feet with this KoolerThings Shiatsu Massager. Simply slide your legs into the unit and experience deep kneading through the calves, ankles, soles, and feet. Choose from multiple massage options — including plantar scraping, instep kneading, calf kneading, and calf scraping — to alleviate pain or stimulate circulation. Built-in heating helps to relax the muscles and provide soothing relief. The massager's LCD touch control panel and remote control are both easy to use and allow you to select the massage mode, massage timer, heating level, and vibration level. This unit includes an ergonomic handle that makes it easy to move from room to room, a secure non-slip base with rubberized feet, and a removeable and washable zippered cover.
6. Megawise Handheld Deep Tissue Massager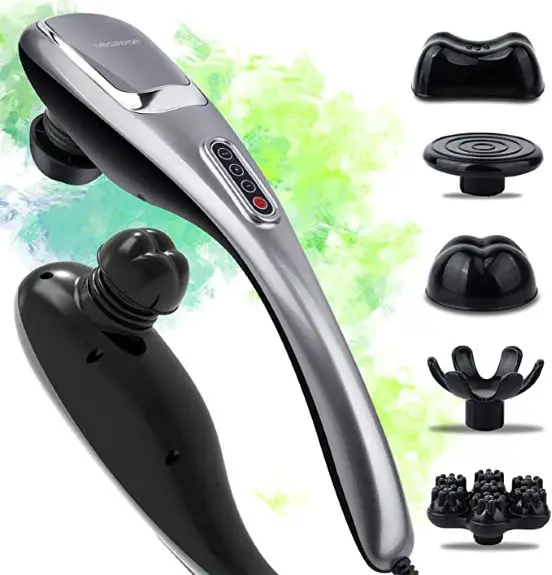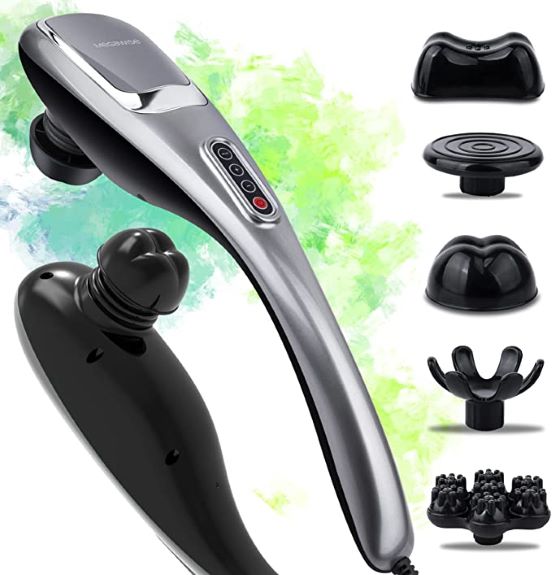 Best deep tissue leg massager

Ergonomically designed handheld massager

5 interchangeable massage nodes
Relieve pain in specific areas on your legs with the Megawise Handheld Massager. With an advanced 3,600 rpm motor, it offers a deep tissue massage that reaches up to 8 mm below the skin. It penetrates sore and stiff muscles for targeted relief. With enhanced noise reduction technology, this model offers a quieter massage experience. It also features an ergonomic design that makes it easy to grip and assists in reaching difficult spots like the backs of the thighs or calves. This handheld massager can also be used as a back massager, neck massager, shoulder massager, and general body massager thanks to the five interchangeable massage nodes designed to provide different types of relief.
7. Sharper Image Powerboost Deep Tissue Professional Percussion Massager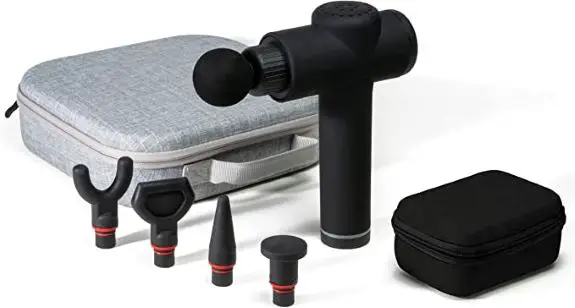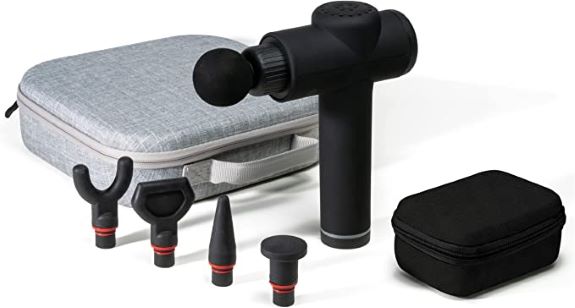 Best leg massage gun

Percussive massage with ultra-quiet motor

5 interchangeable massage nodes
This handheld massager from Sharper Image is an advanced percussive massage gun that can be used for a full body massage, including the thighs, calves, and feet. Choose from five massage nodes — round, bar, flat, fork, and cone — and three massage speeds to get the best relief for your needs. This ultra-quiet massage gun runs for over four hours on a single charge, so you can take it with you on the go whether you're traveling, heading to the gym, or working from the office. Unlike many other leg massagers, this one comes in several stylish colors and includes a convenient carrying case.
8. Doctor Life SP-2000 Sequential Air Compression Leg Massager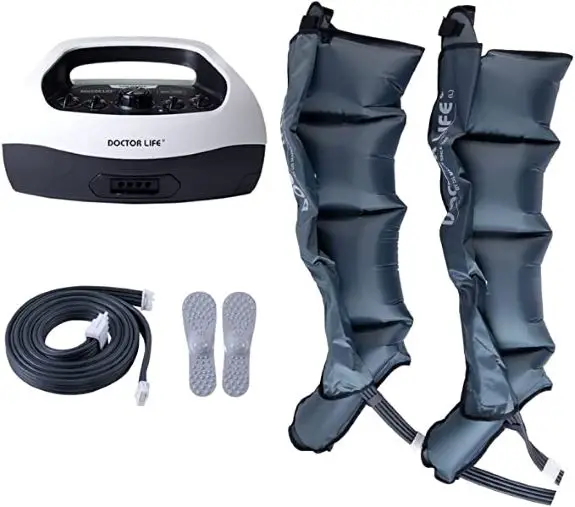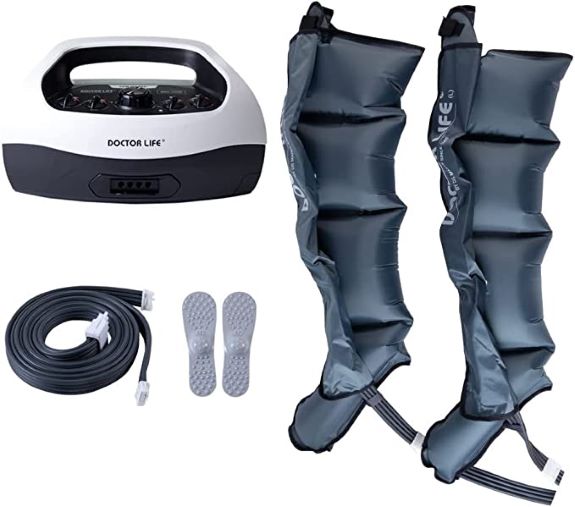 Best leg massager for circulation

Air compression massage boots

Carrying case with handle
The Doctor Life SP-2000 Sequential Air Compression Leg Massager is designed to help improve circulation through short and satisfying massage sessions. Slip into the boots, which extend up to the thighs, and use the convenient air pump to select the pressure for each individual chamber. These boots come in three sizes to accommodate different thigh and calf sizes, and zippers along the sides make it easy to get the boots on and off. The set comes with a convenient carry bag with a handle for easy storage and transportation.
9. Mynta Full Body Massage Chair Recliner with Body Scan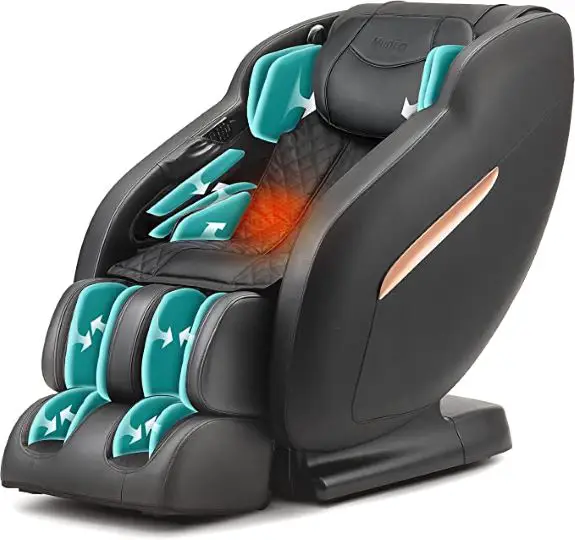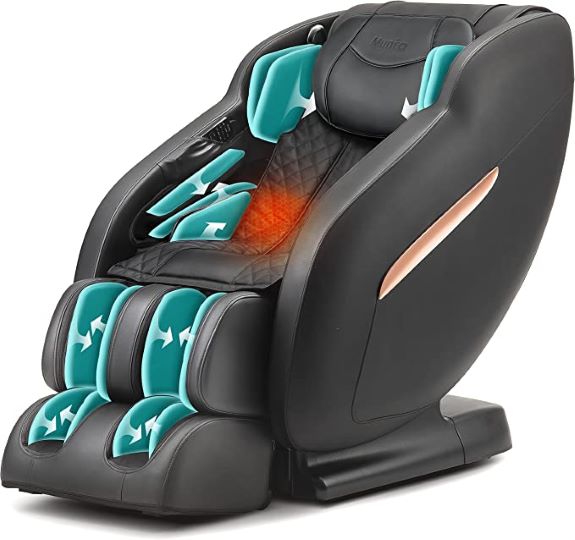 Best massage chair

Full body airbag massage

Three zero gravity angles
The Mynta Full Body Massage Chair Recliner offers relaxation and rejuvenation from head to toe, including the legs. With 32 airbags positioned along the body, it provides effective massages in any area where pain relief is needed. The remote control allows you to choose from seven automatic modes or customize your experience with multiple speed and intensity levels. This cushy recliner can be set to three zero gravity angles, which helps to reduce heart pressure and boost circulation. It also comes with several upgraded features, including lower back heating, an extendable footrest, and a wireless Bluetooth speaker. Rollers are positioned along the base to make the massage chair easier to move.
Leg massager FAQs
What do leg massagers help with?
Most people are already aware that massages are great for overall wellness, specifically relieving pain and muscle tension. However, you might be surprised to learn that leg massages can also provide relief or reduce symptoms for a wide variety of ailments and conditions, including:
Plantar fasciitis

Diabetes

Neuropathy

Fibromyalgia

Edema

Arthritis

Restless leg syndrome
Are leg massagers good for you?
A leg massager can help to relieve pain and discomfort in the thighs, calves, and feet. In addition, the use of an at-home leg massaging device can help to promote circulation, reduce swelling, and aid in post-workout recovery.
How often should you use a leg massager?
Leg massagers can be used daily. Once per day is sufficient for many people, although it's generally safe to use your leg massager up to three times per day. Each session should last no longer than about 20 to 30 minutes. Some devices include an automatic shutoff to keep sessions brief. If you have any concerns or are using your leg massager to help treat a specific condition, consult your doctor about recommended use.
Where can I buy a leg massager?
Leg massagers can be purchased either in stores or online. Sites like Amazon offer models from a wide range of brands, such as ReAthlete, Sharper Image, Renpho, Therabody, and Homedics. Shopping on Amazon also provides an easy way to use credit cards or gift cards when making a purchase.